Jo Ann Wadkins – Our Neighborhood Principal
"A perfect fit for the CHS community"
On June 25 Cleveland High School announced their newest principal, Jo Ann Wadkins, after the resignation of Leo Lawyer midway through the 2019-20 school year left the position once again open.
Living in Ladd's Addition, Wadkins has been trying to join Cleveland for many years, and is excited to be working as principal of her neighborhood high school. She has already planned different bike routes she can take for her new short commute, and has tested some of these on her way into the office during the summer months preceding her first semester at Cleveland. 
Wadkins is a professed bike-lover; she and her husband themselves own nine. She participates annually in a neighborhood tradition of biking around Ladd's Circle 500 times in relay style with her neighbors. She loves spending time outdoors and enjoys cooking, especially Italian food, which she has been bent on since she lived in Italy as a naval officer before she began her career in education.
Wadkins faces a challenge in being a new principal in a new school that will be starting in an almost entirely new format – distance learning. But Paul Cook, who finished the school year as interim principal after Lawyer's resignation, thinks Wadkins is up to that challenge. 
"She is a perfect fit for the CHS [Cleveland High School] community." He added, "Under Principal Wadkins' leadership I see some great things happening at CHS.  She will continue to strengthen the great attributes of the school, and will encourage and enhance the learning experiences for all students," said Cook. 
Wadkins' history speaks for itself. Throughout 15 years at Lincoln High School, the only other IB school in the Portland Public Schools district, she taught IB Physics and Theory of Knowledge, and worked as IB Coordinator and Vice Principal. Before coming to Lincoln she taught in the Sweetwater Union High School District in Chula, California where she built an observatory on the roof of her school with her students.
Her path to a teaching career was not a straight one. Wadkins had not initially planned to apply to any universities after high school, due to financial concerns. She had been a very involved high school student, an editor of her paper, a member of yearbook, a part of all the school plays, the list goes on. 
With the help of her school counselor Wadkins applied to Trinity University in San Antonio, Texas, where she grew up. She was offered scholarships to attend the school, and there she earned her Bachelor of Arts in Physics. 
"I just think about all the different really positive special memories I have from high school, you know, teachers, counselor, believing in me, and helping me achieve, you know, the dreams that I had," said Wadkins.
That dream, going into college, was science. Wadkins was a physics major at Trinity, and was interested in astrophysics. She was involved in astronomy throughout her time there. As an undergraduate she worked at a major observatory and experienced looking into space at a spiral galaxy through the eyepiece of an extremely powerful telescope, which she remembers as one of the most amazing moments of her life. 
"I'm still awestruck when I look into the night sky," she said, remembering that moment.
After graduating college Wadkins took a different route, and instead of a focus on the sky she became focused on the sea as she joined the Navy in order to help support her family. It was after that when Wadkins found something new to specialize in. 
"What I felt that I really wanted to do was teach," she said. "I wanted to inspire the students the way my teachers inspired me." 
She later added, "I want students to feel like, yes we have a group of educators that wants to listen to you, wants to support you, wants you to help you realize whatever hopes and dreams you have."
This passion will guide her through the next months as she begins to traverse the choppy reality that is distance learning. She is not without ideas, and is already considering ways to do pick-ups for at-home labs, getting to know the incoming freshmen, and allowing students to have hands-on learning opportunities while at home or, with potential safety measures in place, at school in small groups.
"I think we'll be prepared," Wadkins said.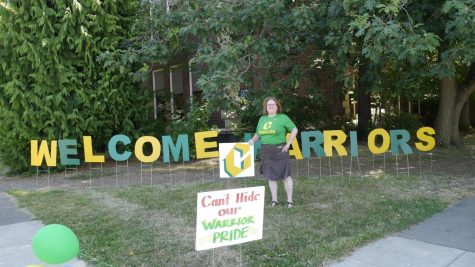 Wadkins imagines having teacher cohorts, which would operate as a check-in and support system where each student would be part of a peer group with one staff member. Wadkins wants to have clarity and regularity surrounding all organizational aspects of assignments, which should be easily navigable for both students and parents, to create further success in a new environment. 
Schools are now out of an emergency response oriented strategy to distance learning. There has been time to plan, to reevaluate and learn from the first experiences of virtual learning last spring. 
This is shown in the  plans for the first two weeks of the fall semester, where time will be spent to orient students and staff to the beginning of a new school year in a completely virtual fashion.
Aside from the logistical aspects of school during a global pandemic, student safety must be maintained within the Cleveland community, so that every individual can feel comfortable in their school setting (physical or virtual). Past incidents of racism and hate speech have inflicted lasting trauma on many. 
"It's going to be really important for us to hear the voices of students of color and their experiences, so that we're aware and we can change and disrupt habits and behaviors that are providing barriers to our students of color," Wadkins said. 
Wadkins must tackle this dynamic as a new principal, and try to figure out ways to engage in this conversation while maintaining safety among students and staff in an era where physical distancing is the new normal. 
"It's work that's going to take time. I'm not a person that is going to come in like I am some kind of, oh I have all the answers, we're just going to do this and it's going to make everything better, right. And so a big piece to me is just making sure that there's good channels open for me to listen. And so I want my meetings with students not to be ad hoc, and what I mean by that is not – oh this thing happened, let me reach out to this student group – just always in a reactionary way. I really want it to be an established dialogue," she said.
"Inherently, systems in this country are racist, they're based on values that are set by white culture," said Wadkins. Even the system of a classroom, or a bell schedule, can be unwelcoming to some students, she explained. So there must be intentionality about the spaces created in a classroom. 
Wadkins mentioned having one of the main topics of the allotted professional development hours at the beginning of the school year be equity work with the Cleveland staff. It's important that students know where to report something if it is happening, and that teachers take time to build guidelines online. Wadkins said she values building "education around, I want to say fundamentally around, how we respect each other."
And on that note, we welcome Mrs.
Wadkins as the newest principal of Cleveland. "I want to be there [at Cleveland] for many years, and I'm not going anywhere anytime soon. So, I just hope the students, as they get to know me, understand I really am here for you."