The Boys are back in town and more "diabolical" than ever!
Last summer, streaming service audiences were given a superhero show like no other. Amazon Prime's The Boys was a crude, violent, and overall brutal depiction of what the world would look like if superheroes were real. With a great cast of loveable and hateable characters and a darkly-humorous script, the show was a big hit with viewers all around the world. Only a little over a year later, a season two has arrived with bigger stakes and greater conflicts, but a lacking overall plot.
The first season was in many ways a classic underdog story. The heart of the show was about a small group of criminals attempting to take down an ensemble of superheroes named "The Seven," but within that basic plot was a story about what it means to be good, bad, and everything in between. Season two elevates these complex themes by holding back on big action and focusing more on small character interactions. No character in the show is one-note, each one coming with their own flaws and strengths. Even the evilest characters like Antony Starr's twisted Superman, Homelander, get a chance to have and express layered emotions. This is no doubt the strongest aspect of season two and the thing that keeps audiences coming back every week. From one episode to the next, creator Eric Kripke is able to make viewers hate and love the protagonists of the show constantly tempting the heroes to take their murderous motives one step too far. New additions to the cast like Aya Rachel Cash's Stormfront fit well within the already established list of characters and provide new aspects to the show's story that have yet to be explored. The Boys is a show carried by its amazing cast and is what makes it one of the best shows online right now.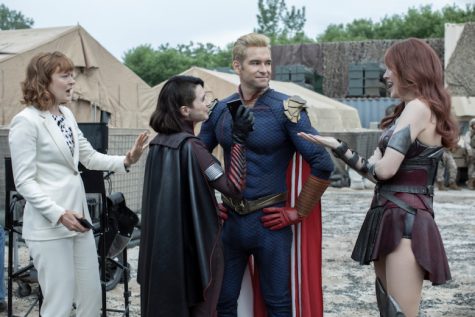 Where season two falls compared to season one is unfortunately in its plot and pacing. What makes TV shows great is their ability to tell long, detailed narratives without having to rush over character development. Season one was able to accomplish this well, honing in on the hurdles of trying to kill superheroes and the steps taken to do so. Season two feels a bit cramped, featuring three to four ongoing stories each episode while trying to stay true to the heart of the show. Although the writers were able to retain the excellent character development seen in season 1, their thin subplots muddy the pacing of the show. Oftentimes, engaging episodes will come to a halt when they cut to far less interesting stories like that of a cult-like church meant to rehabilitate superheroes. That all being said, when the show chooses to focus on its main cast of heroes and villains,  it excels to a point possibly even better than the first season. This is accentuated in the last episode of the season, which is one of the best TV finales I've ever seen. 
Even though season two may not always be the most attention-grabbing, it is still an amazing piece of television entertainment.  The second season is just as if not gorier than the first season and is still darkly hilarious throughout. Some of the best moments of the entire show are sprinkled throughout the season and much of the emotional weight missing from season one is shown front and center here, even bringing a tear to my own eye. Season two is also far more topical than its predecessor, bringing commentary on subjects like systemic racism and toxic marketing. It is an outstanding continuation of the show and definitely worth a watch if you are a fan. So sit back and enjoy the bloody, quick-witted, Billy Joel-filled second season of The Boys.