Portland Students Hit the Streets for the Climate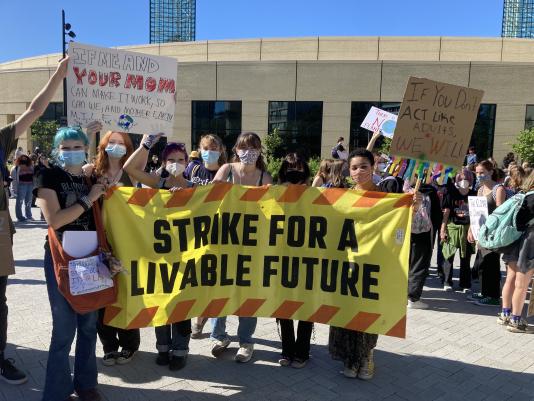 Late in the morning of Friday, Sept. 24, students from high schools across Portland began to gather at the amphitheater steps outside of the Oregon Convention Center. Many had taken public transportation, and as the last few groups stepped off the train, student organizers from Sunrise PDX gathered the crowd in a circle to give them a few basic instructions. The organizers gave an overview of where they'd be heading, and roused the crowd with a few marching songs, before the march kicked off.
The students, on their way to City Hall that day, had a variety of reasons, goals, hopes, and fears that brought them together. We asked several people to describe what these were for them.
"I just think that people need to be more aware of what they're doing and try to bring down their carbon footprint and make the world a better place," responded Eric, a student from Lincoln High.
Conversely, a senior named Gabby said, "I think it'd be cool to see more people here, and hopefully the bigger companies or the government are going to take notice of this, and do something about it, because they have the power, ultimately."
Some students were hopeful that this event could spark change, while others felt rather disillusioned.
A senior from Franklin spoke about the sense of community they felt: "I've talked to so many strangers, and it's so nice. I never thought I would feel so welcome in such a big crowd."
As the march progressed through downtown Portland, it wound and circled through Old Town and Chinatown, before coming to the city center. Chants rose and fell, including, "What do we want? Climate justice!" and "Climate change is [f——] real, give us all a Green New Deal!"
Once the march landed in front of City Hall, the speakers began setting up. They included poets, singers, and advocates, both students and adults. Five chairs were also set outside of City Hall, each marked with the name of a Portland city commissioner, but they remained empty.
A student named Adah Crandall talked about her participation in the years-long fight against the expansion of Oregon highways, and a community activist called Angela discussed the intersection of climate issues and Indigenous land sovereignty – the lack of available and safe water in the Warm Springs reservation in Eastern Oregon, the risks of the Line Three pipeline expansion around Minnesota, and the danger of proposed lithium mining in Nevada. This intersection was widely represented in the march; several attendees carried American Indian Movement flags, and "Land Back!" was one of the marching chants heard.
When all of the speakers had concluded their pieces (and a few attendees had stepped up to the mic for impromptu contributions), the rally was over. Students began to trickle out of the city center the way they had come.
The youth climate strike echoed a previous march held in 2019, also organized by the global Fridays for Future movement with the local organization Sunrise PDX. Cleveland's branch of Fridays for Future stages demonstrations outside of the school every Friday morning, and is also represented through Cleveland's Climate Club, which works to educate students about climate change and environmental destruction, and organizes activities to fight it.
Leave a Comment