Netflix's Maid Review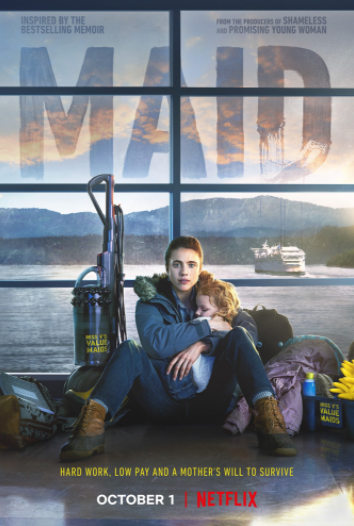 On Oct. 1, the 10-episode Netflix series "Maid" was released. It portrays a young, single mother who, after fleeing her home and an emotionally and borderline physically abusive relationship, takes to housecleaning to make ends meet while also battling homelessness in order to provide a better life for her daughter. So far, the show has received an 8.6/10 rating on IMDb and 96% on Rotten Tomatoes.
The lead character in the series, Alex, is played by the actress Margret Qualley. Qualley did an overall amazing job in this role. She portrays a character who is kindhearted, introverted, determined and strong willed. Some of Qualley's previous work includes, Once Upon a Time in Hollywood (2019), My Salinger Year (2020) and Death Note (2017).
The antagonist of the show, Sean, is played by Nick Robinson. Robinson does a fantastic job in his portrayal of an abusive, manipulative and selfish character. This is a departure from his previous "nice guy" roles. Some of Robinson's other works include Love, Simon (2018), Everything, Everything (2017) and A Teacher (2020).
The relationships in this show are really what bring it all together. The relationship between Alex and Regina is one example. Regina is a wealthy woman Alex cleans for. Alex initially only sees the surface of Regina's rich, privileged and fancy life. What Alex fails to see and later comes to realize is that everyone's life has flaws, no matter what they do to try to mask them. Alex may not have Regina's privileged life but Alex has people in her life that make it worth living. At the end of episode four, Regina's family-related flaws are revealed and Alex realizes how lucky she truly is to have her daughter Maddy in her life. This motivates her to overcome the struggles she faces. In Alex's words, she "lives for her daughter" The episode ends with a line by Alex. "Our space will be a space we love each other in."
Another relationship in the series portrays a triangle between Alex, Maddy and Alex's mother Paula, played by Andie MacDowell. Paula suffers from bi-polar disorder, which has affected Alex her whole life. Paula and Alex's relationship faces many ups and downs throughout the story. Although Paula cares deeply for both Alex and Maddy, she has a hard time expressing it.
This show aims to shed light on the experience of being in an emotionally and physically abusive relationship without being insensitive to the true struggle of domestic violence and homelessness. I would highly recommend watching this show. It is incredibly empowering and inspiring.
Leave a Comment