Cannibals Win 11th PIL Speech and Debate Title
After a weekend of competition from April 1-3, the Cannibals, Cleveland's speech and debate team, have claimed their 11th PIL speech and debate title. This follows the PIL competition of Spring 2021, in which Cleveland also took the title, as well as placing in every event
With a total of 148 points, the Cannibals swept the competition, which included Lincoln (63), Ida B. Wells (45), McDaniel (22), and Roosevelt (20). Cleveland students placed in all 10 competitive events, as well as taking places in all eight uncontested events.
The state competition will be held from April 21-23. More information about the competition schedule can be found on the OHSSL website.
Below is a list of all state qualifiers from the PIL tournament. These results have been calculated before applying the Proven Excellence alternative qualifying system and assigning final Student Congress spots.
2022 District #13 State Qualifiers
Wells, Roosevelt, MacDaniel, Lincoln, Cleveland
Speech Events Results
After Dinner Speaking
1. Dana Ganev, Lincoln
2. Alyssia Menezes, Lincoln
Alt. Ezra Greenhill, Cleveland
Extemporaneous:
1. Alyssia Menezes, Lincoln
2. Zane Emerson,McDaniel
3. Preston Bushnell, Wells
Alt. Trey Towne, Cleveland
Impromptu:
1. Noemie Viellette, Wells
2. Ellie Howard, Cleveland
3. Preston Bushnell, Wells,
Alt. Keegan Martin, McDaniel
Oratory:
1. Ben Stevenson, Cleveland
2. Felix Cohen, Cleveland
3. Kate Bingham, Lincoln
Alt. Sophie Jacqmotte-Parks, Cleveland
Poetry Interpretation:
1. Aili Deibert, Roosevelt
2. Abbey Hankins, Cleveland
Alt. Sten Brakstad, Cleveland
Radio Commentary:
1. Camille Munoz, Roosevelt
2. Liam Taylor, Cleveland
Alt. Noemie Viellette, Wells
Debate Events Results
Policy Debate:
1. Weaverbell/Zhang, Lincoln
2. Sadie Nichols/Byronie McMahon,Cleveland
Lincoln-Douglas Debate:
1. Alvin Chan,Cleveland
2. Cassidy Beebe, Wells
3. Xander Bartlett, Cleveland.
Alt. Preston Bushnell, Wells.
Public Forum Debate:
1. Abbey Hankins/Ellie Howard, Cleveland.
2. Emerson/Martin, McDaniel.
3. Harper/McCormick, Lincoln.
Alt. Rowe/Krain, Cleveland
Parliamentary Debate:
1. Liam Taylor/Felix Cohen, Cleveland.
2. Stella Greenvoss/Sophie Jaqmotte-Parks, Cleveland.
3. Matt Stevenson/Ben Stevenson, Cleveland
Uncontested Events (Straight to State)
Informative Speaking:
Kate Bingham, Lincoln.
Stella Greenvoss, Cleveland.
Dramatic Interpretation:
Felix Cohen,Cleveland.
Theo Chowdry,Cleveland.
Dual Interpretation:
William Bransford and Nate Adamski,Cleveland.
Leila Rovics and Owen Rowe, Cleveland.
Humorous Interpretation:
Quinn Keough,Cleveland.
Erskine Wells,Cleveland.
Literary Interpretation:
Damaris Yu,Cleveland.
TBA, Cleveland.
Prose Reading:
Sophie Evans,Cleveland.
Stella Greenvoss,Cleveland.
Program Oral Interpretation:
Della King, Cleveland.
Nathan Cubin Ward Goldberg,Cleveland.
Student Congress:
Tara Subrumaniam, Lincoln.
Simone Guite, Cleveland,
Sahara Lally, McDaniel.
Called up through Proven Excellence Alternative Qualifying
Ezra Greenhill (Cleveland) in After Dinner Speaking
Kate Bingham (Lincoln) in Oratory
District #13 (PIL) Team Sweepstakes
(not including uncontested entries)
1. Cleveland 148 pts
2. Lincoln 63 pts
3. Wells 45 pts
4. McDaniel 22 pts
5. Roosevelt 20 pts.
Leave a Comment
About the Contributor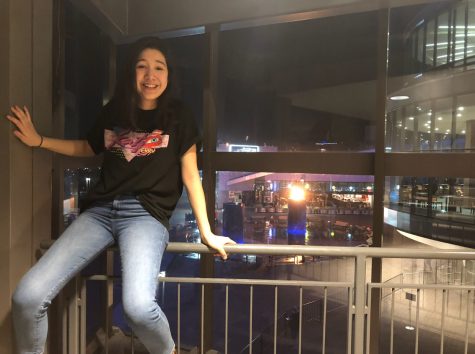 Becca Roso, Digital Editor
I'm Becca Roso, and this is my third year on the Clarion. This year I'll be the digital editor, and I'm currently a Senior here at Cleveland. My favorite...