It's a blast from the past!
A sneak peek at Cleveland theater's most recent endeavor: Zombie Prom.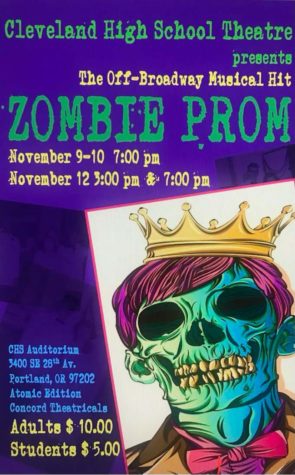 After two years of Covid-19 shutting down Cleveland's theater productions, they are starting their first full-fledged theater season with a bang! Or maybe a ghoulish groan?
"Zombie Prom," Cleveland's first musical in the last six years, is a quirky and colorful production jam-packed with campy '50s songs, dancing, and of course, zombies. The musical is scheduled for Nov. 9, 10 and 12 at 7 p.m., and a matinee at 3 p.m. on Saturday, Nov. 12.
Michael Payne, Cleveland's theater teacher, when asked to describe the show in a small number of words, said, "Bright, fast … color. An exaggeration of truth, it really is a celebration of 'be you!'"
The Off-Broadway musical is written and created by Dana P. Rowe and John Dempsey and was first produced in 1993. The musical was then adapted into a short film in 2006 and released at several film festivals, where it won Best Short Film. The adaptation's cast most notably included drag queen RuPaul as Ms. Strict.
Zombie Prom follows leads Toffee and Jonny through a classic, sappy high school romance. Jonny is an orphan — wild, free, and rocking lots of leather. Toffee is cheering with the pep squad, dreaming of real love. In a flurry of defiance, air raid drills, and lots of dancing, the two meet and it's love at first sight. Pledging to be eternally true, they're torn apart when Toffee's mother and father have something to say about their relationship. Jonny, heartbroken, takes matters into his own hands in more ways than one. The play begins to approach ideas of identity, belonging, prejudice and acceptance – all set to a 1950s nuclear fever dream that will get you tapping your toes and laughing along.
To pay for the endeavor, for the first time in the last two years, Cleveland theater will be charging for tickets: $5 for students and $10 for adults.
"I want students to always know what it takes to do a play or a musical," Payne said. "Zombie Prom, for us to do four productions, it's about $2,100 (for the royalties alone, not including costuming or set design or paying the Musical director or choreographer Cleveland had to pay for as well). That [$2,100] goes into paying the playwrights and the musicians and the lyricists, the people who created it, and it also goes to the publishing company that works for that. We had to spend three years building the account up so that we can actually produce something as expensive as a musical."
An interview with the leading roles:
Seniors Juni Muellner and Jack Garrison play leads Toffee and Jonny. Muellner and Garrison have been with Cleveland theater for several years now, performing in quite a few shows. This is Muellner's second year with Cleveland theater specifically, but she has a long history of theater and musical experience as an alumnus of da Vinci Arts Middle School. She partook in a musical every year of middle school, building her way from ensemble to leading role.
When asked how she was feeling about the rehearsals so far, she answered, "I'm feeling really excited. I am a little bit nervous because it's so much music. I've never done any…[shows with] back-to-back to back songs and…little dialogue."
But she said she is up for the challenge and feeling excited!
Garrison has been with Cleveland theater since his freshman year, this being his fourth show. During his interview he reminisced on his first performance with Cleveland. "I was in 'Almost Maine' my freshman year. I remember I was actually,…I think this is a great fact, I was one of two freshmen to audition. And those two freshmen were me and Juni. And now, [we're] the leads, which is really fun."
Garrison confessed that this is his very first musical experience, and he commented on how fun it is so far and that he is proud to have broken out of his comfort zone to try something new.
Muellner and Garrison both want to pursue a career in theater. When asked about their plans for the future, the consensus was anything and everything to do with theater and its production. But also they spoke about how thankful they are to lay this solid foundation with Cleveland theater.
Garrison said, "I love being onstage, I love performing. I want to be in movies, TV. I want to do voice acting, [and] I want to maybe continue in musical theater because it's really fun so far! I've always been passionate about this and I love Cleveland theater specifically. I just- I'm really happy to be a part of it."
Muellner was equally passionate about her plans and actualizing her dreams. "I plan to go to film school. I'm interested in acting and producing, stuff like that. I just want to get to explore all types of it (the film industry). But it's been a lifelong [dream] or, probably since like third or fourth grade? I've always wanted to be an actress, so it was great to have experience in middle school and then get to do it in high school!" Muellner remarked.
In short, the Cleveland theater program has put their heart and soul into the choreography, set pieces, vocals, and characters that you will be seeing in November.
And a final note from director Payne, ¨Just come out with an opportunity to have fun! See a bunch of color and celebrate kids being kids [with] a show that is made for the whole family and celebrates what is best in life, which is some music, some coming together, and just the ability to have a good time!¨
Leave a Comment