Spring Sing choir concert delights
I took my seat inside the freezing auditorium March 19, along with many members of the community. I wished I were home–in my bed, wrapped in my warm blankets–but by the end of the night, I was glad I was not. It was my great pleasure to have been able to hear all my immensely talented classmates at the annual Spring Sing put on by Cleveland's extraordinary choir program, directed by Diana Rowey and her accompanist Nick Fontana.
There were too many amazing performances, that I can't talk about them all. High Altitude performed "We Can't Stop" by Miley Cyrus, and they did not disappoint. I was truly impressed by the talent of all those girls. Bravo to them for the performance they gave!
The Delles and the Dudes teamed up to sing "All Ye Who Love Music" by Linda Spevacek. They did wonderful, and I could tell how much they had all improved since the beginning of the year. It was to my disappointment that I didn't get the opportunity to hear the Delles perform alone. Although they did perform twice, each time they sang with another group. I would have enjoyed hearing more from them.
I was delighted to hear four solo performances throughout the night. Ali Tucker performed "Loveliest of Trees" by John Duke, Abbie Winn sang "Wolfgang Amadeus Mozart," Seth Prevatte sang "History's Door" by Husky, and the last soloist was Mikaela Clark, who performed "D'ans les ruines d'une abbey" by Gabriel Faure. Each performance blew me away. They all had their own special kick that made their performance unique and extraordinary.
Another performance I'd like to mention is the Dudes performance of "Homeward Bound" arranged by Jay Althouse. Every single one of those boys performed fantastically. The soloists during this song were some of my favorites. When they went to do their solo, I could see how nervous they were, but they managed to shake it off and make it through. I can see the great singers within them already.
The Dettes performed three songs, but my favorite out of all them was "Scarborough Fair" arranged by Mary Goetze. I was extremely impressed by the talent of these girls as well. In this song the girls' voices created an enchanting experience that will be hard to forget.
Cleveland's 'A' Choir brought no disappointment. They sang three songs. The last song they performed was "Ezekiel Saw de Wheel" arranged by Moses Hogan. When the singers got into the song, it entertained the entire audience, including me.
When the Daires came on, their enthusiasm for every song made their performance the most memorable of the whole show. My favorite performance of Daires and some of the audience members around me was "Bill Bailey, Won't You Please Come Home" arranged by Greg Gilpin. They had so much energy that seemed to radiate off of them. It definitely shined all the way through in this one. When the singers are into a song, it helps make the show entertaining to the audience because we begin to feel as into the song as they are.
I thoroughly enjoyed the performances put on by Cleveland's choir program. I had only three complaints about the entire experience. One, I would like to have heard the Delles perform alone. I'm sure they're very talented, but I never truly got to find out. Two, for some songs, I had to strain to hear those who were singing. Some of the people around me weren't even able to hear some of the songs at all. I'm not sure if it was a technical difficulty or what, but it was really disappointing. Three, out of the whole performance, there were very few fast-paced songs. At times, the show could have used an increase in tempo. The songs were beautiful and some of them fun, but for the most part, the tempo was too slow. I would have loved to see more diversity. The majority of the faster paced songs were in the second act. It may just have been the level each group was at, but I wish there had been a way for them to add a little more variety.
If you haven't already been to one of Cleveland's choir performances this year, I urge you to attend one of their shows. It wouldn't be a surprise to me if some of them grew up to be famous singers in the future. I applaud every single performer who took to the stage; you did a splendid job.
Leave a Comment
About the Contributor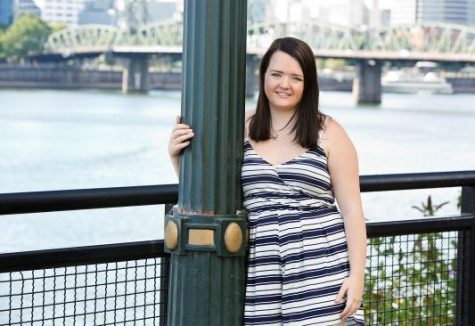 Ashley Lytle, Editor-in-Chief
Position: Editor-in-Chief, Online Editor, Page Editor, Photographer, Videographer

Graduation year: Class of 2017

Favorite thing to do: Hang out with...