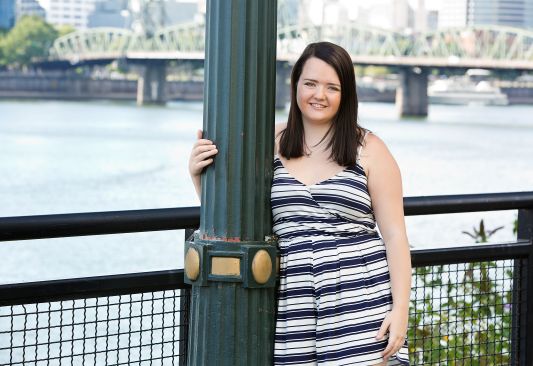 Position:
Editor-in-Chief, Online Editor, Page Editor, Photographer, Videographer
Graduation year:
Class of 2017
Favorite thing to do:
Hang out with friends by either going out somewhere or more commonly watching movies or Netflix and cooking. I also enjoy just hanging out at home with my kitty,  Willow.
Favorite book:
I tend to be drawn to series. But when I'm not entranced by one, I read fictional stories, usually action-oriented or surrounded by mystery. I'm a sucker for a good mystery or thriller.
Favorite movie:
My love of movies makes it impossible to settle on a favorite, at least for long. I will say this: an amazing movie has a fantastic script, a perfect soundtrack, and of course awesome visuals. There's a lot more that goes into good movies, but those are some things that tend to stick out to me.
Favorite food:
Tacos and cheesecake. They're both absolutely delicious, plus they're some of my favorite foods to make.
Favorite quote:
"You may say I'm a dreamer, but I'm not the only one. I hope someday you'll join us. And the world will live as one." ―
John Lennon
Ashley Lytle, Editor-in-Chief
Jun 03, 2017

Lizzie Edwards: World Explorer

(Story/Media)

Jun 01, 2017

100 Warriors: Peter Za Wins Award from Yale

(Story/Media)

May 30, 2017

Student Complaint Prompts School Review of Sundancer Name

(Story)

May 07, 2017

Conor Bergin is Crowned the 2017 Mr. Cleveland

(Story/Media)

Apr 26, 2017

A Helping Hand: Cleveland Benefits from Community Fundraising Support

(Story)

Apr 24, 2017

Principal O'Neill is Leaving PPS for Clackamas High School

(Story)

Apr 13, 2017

Biftu Amin is Selected as Cleveland's 2017 Rose Princess

(Media)

Mar 26, 2017

Spring Sing was a Success for Cleveland's Choir Program

(Story/Media)

Mar 25, 2017

100 Warriors: Luisa Potestio's journey to Cleveland

(Story/Media)

Mar 15, 2017

Versus Week Leaves Students in High Spirit

(Media)

Mar 10, 2017

Cleveland's Athletic Hall of Fame Welcomes Newest Inductees

(Media)

Mar 10, 2017

Culinary Arts Explores Traditions in Food

(Media)

Mar 03, 2017

Senior Girls Finish Their Career at Cleveland

(Media)

Feb 27, 2017

Groundlings Festival Premieres at CHS

(Story/Media)

Feb 26, 2017

The Class of 2017 Facebook Page Heats Up

(Story/Media)

Feb 22, 2017

2017 Rose Festival Princess Candidates

(Media)

Feb 21, 2017

Valentine's Day, Youth, and Relationships

(Story/Media)

Feb 19, 2017

Cleveland Alumnus Continues Journalism Career

(Story)

Feb 07, 2017

January Faces on the Field

(Media)

Feb 04, 2017

Girls Varsity Basketball Defeats Lincoln

(Media)

Jan 26, 2017

100 Warriors: Biftu Amin Empowers the Next Generation

(Media)

Jan 25, 2017

Students Take a Stand for Standing Rock

(Story)

Dec 20, 2016

Winter Band Concert 2016

(Story/Media)

Dec 17, 2016

Love Column: A Night Under the Mistletoe

(Story)

Dec 05, 2016

The Club Fair Recruits

(Media)

Dec 05, 2016

Sundancers, Face Paint, and Traditions: Cultural Appropriation at Cleveland

(Story)

Nov 30, 2016

'Les Miserables': Better than the movie

(Media)

Nov 30, 2016

Give Back this Holiday Season

(Story/Media)

Nov 26, 2016

A Winter Semi-Formal for Cleveland

(Media)

Nov 21, 2016

CHS Students: Post-Election Reactions

(Story/Media)

Nov 13, 2016

Cleveland Student Kylie Ristvedt Gets Player of the Year for Volleyball

(Media)

Nov 09, 2016

Students Participated in Anti-Trump Protest

(Story/Media)

Nov 04, 2016

Cleveland Students Prepare to Vote

(Media)

Nov 03, 2016

Cleveland Auditorium Finished at Last

(Media)

Nov 02, 2016

The Voter's Guide: 2016 Oregon Ballot Measures

(Media)

Oct 24, 2016

Cleveland Choir: Harvest Festival 2016

(Story/Media)

Oct 17, 2016

A Kickoff to Homecoming

(Media)

Oct 04, 2016

September Faces on the Field

(Media)

Oct 02, 2016

'A Mosaic of Faces' to be Screened in Times Square

(Media)

Sep 30, 2016

Clarion Top 10: If the PPS water crisis were a movie

(Media)

Sep 30, 2016

The Star Spangled Banner: To sit or stand

(Story)

Sep 30, 2016

Homecoming Dance Postponed Due to Safety Concerns

(Story/Media)

Sep 24, 2016

CHS 100 year celebration to continue through March 2017

(Story)

Jul 11, 2016

Stanford rape case: Is this justice?

(Media)

Jul 08, 2016

College checklist: The senior year survival guide

(Story/Media)

Jun 13, 2016

Senior Staff Biographies: Another year of goodbyes

(Media)

Jun 12, 2016

A successful first year for Principal Tammy O'Neill

(Media)

May 28, 2016

Battle of the Bands did not disappoint

(Story/Media)

May 28, 2016

Round Six: Cleveland 100 year celebration winner… Michael Lovett

(Story/Media)

May 27, 2016

Springtasia 2016: The best show of the year

(Story/Media)

May 24, 2016

2016 Spring Band Concert: A show full of immense talent

(Story/Media)

May 18, 2016

Round Six: Cleveland 100 year Anniversary Trivia

(Story)

May 09, 2016

Cleveland to be represented at the 2016 Starlight Parade

(Story/Media)

May 08, 2016

Round Five: Cleveland 100 year Celebration Winner… Terrell Cunningham

(Story)

May 05, 2016

Band and choir's sweet melodies earn them a place at state

(Story)

May 03, 2016

Stop the catcalls, sexualization, and degradation of women

(Story/Media)

Apr 19, 2016

Round Five: Cleveland 100 year Anniversary Trivia

(Story)

Apr 11, 2016

Round Four: Cleveland 100 year celebration winner… Soren Kennedy

(Story/Media)

Mar 19, 2016

Four distinguished alumni honored

(Story/Media)

Mar 04, 2016

Meet your 2016 rose princess candidates

(Media)

Mar 04, 2016

Chinook Academy students interview Cleveland alumni

(Story)

Mar 04, 2016

Round Three: Cleveland 100 year celebration trivia winner … Jasper Whelan

(Story/Media)

Mar 03, 2016

Round Four: Cleveland 100 year Anniversary Trivia

(Story)

Feb 12, 2016

Multitude of reasons affect students' attendance

(Story)

Feb 02, 2016

Round Two: Cleveland 100 year celebration trivia winner … Stellan Roberts

(Story/Media)

Feb 02, 2016

Round Three: Cleveland 100 year Anniversary Trivia

(Story)

Dec 27, 2015

Kindness isn't a killer, but thoughtlessness is

(Story)

Dec 15, 2015

Round One: Clarion trivia winners

(Story/Media)

Dec 09, 2015

Give the great gift of laughter this holiday season

(Media)

Dec 09, 2015

A new crosswalk may be right around the corner

(Media)

Dec 07, 2015

I.B. Art fosters talented artists to make masterpieces

(Media)

Dec 05, 2015

100 years of Cleveland celebrated in new book

(Story)

Dec 03, 2015

Cleveland alumnus goes pro in track

(Story)

Nov 17, 2015

Band raises money during midnight Play-a-thon

(Media)

Nov 14, 2015

Cleveland High School's mall is open for business

(Story/Media)

Nov 10, 2015
Nov 10, 2015
Oct 22, 2015

Stigmas are automatic, but not necessarily true

(Story)

Oct 22, 2015

Cleveland's 100 year controversy cleared up

(Story)

Oct 22, 2015

Gun control: America needs stricter laws, not more bans

(Story)

Sep 28, 2015

CHS welcomes Blumenauer and Rosenbaum on National Voter Registration Day

(Story/Media)

Jun 16, 2015

Catching up with Cleveland graduate Amber Starks, the 1999 Rose Festival Queen

(Story)

May 02, 2015

Cleveland band wins PIL

(Story)

Apr 22, 2015

Spring Sing choir concert delights

(Story)

Apr 20, 2015

SAFER hosts police bureau's Girlstrength workshop

(Story)

Mar 11, 2015

"The DUFF" rises above its genre

(Story)

Mar 04, 2015

Many cultures honored in february

(Story)

Mar 03, 2015

Cleveland's graduation rate above state average

(Story)