SAFER hosts police bureau's Girlstrength workshop
"Stop! Stop! Stop! Call the police! This person is attacking me! Call the police!" These words could be heard echoing through the empty halls of Cleveland, long after everyone had left for the day on Wednesday, April 22.
A group of about 20 girls participated in a workshop hosted by Cleveland's club, SAFER (Students Active For Ending Rape).
One of the SAFER leaders who helped arrange this event was Cleveland junior Julia Kohn-Brown, who explained why this workshop was so important to her: "When talking about the prevention of sexual violence, it's important to tackle the issues from different perspectives– and one important aspect is people feeling empowered and like they can protect themselves; girlstrength is a great way to do that!"
Carolyne Haycraft was the instructor. She is a director of a program called Girlstrength, one of the Portland Police Bureau's strength programs.
During the workshop, the girls learned several ways to defend themselves, usually through the power of their voice, although some physical moves were taught in case of the situation calling for a physical defense strategy. They also practiced different situations to apply their self-defense moves in.
One of the many lessons that was taught was how to handle inappropriate or uncomfortable behavior from authority figures. Another included dealing with inappropriate or uncomfortable behaviors pertaining to bus safety and public safety situations in general. One activity was a role play of how to react to potentially dangerous situations on the bus.
The most prominent lesson of all was trusting your instincts. The class stressed that everyone has intuition for a reason, so it's imperative to our safety that we listen to our gut instincts. The importance of your instincts was a major theme throughout the entire workshop. Girls who took part in the workshop learned how to notice, understand, and trust their instincts through a variety of different activities such as reading a blurb from a book about someone who was raped and how her instincts played a part in saving her life.
Running, verbal defense, unexpected behavior, waiting, fighting, and weapons were all covered as potential ways to defend yourself. The girls who were at the workshop were given several different scenarios where those different methods could be used to help them escape danger.
Amanda Kimball, a Cleveland sophomore, was one of the girls who attended the workshop. "It's amazing how at a young age boys are taught self defense and girls are taught dress up, but then girls are the ones that get taken advantage of. Going to that workshop was so empowering because I never realized fully what girls and women are capable of. I'm sure of myself now when I'm out and about and I know how to keep myself safer," explained Kimball.
Girlstrength is not the only program the Portland Police Bureau offers. Haycraft talked about programs for boys as well to help teach them similar lessons.
"I have taken girlstrength before, but it was at a time where I was afraid to use my voice.  I loved hearing that my voice was loud this time, and watching other girls feel the power of their voices. I recommend signing up for girlstrength or boys strength, or looking into women's strength or volunteering. It's a nonprofit organization so it's run completely by volunteers," Kohn-Brown said.
According to Haycraft, the Girlstrength program is typically taught to middle school students and the program is specific to Portland.
At the end of the two hour session, the girls shouted, "We are intelligent! We are powerful! We have a voice!" The workshop taught the girls how to use all their strengths in order to help keep themselves safe, including the three they all shouted through the empty halls of Cleveland.
Leave a Comment
About the Contributor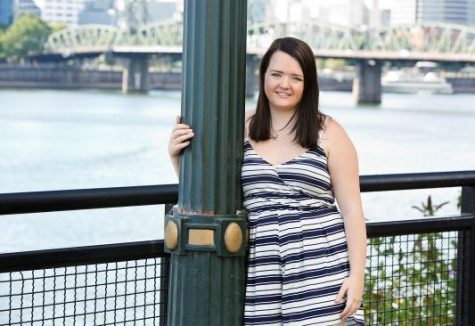 Ashley Lytle, Editor-in-Chief
Position: Editor-in-Chief, Online Editor, Page Editor, Photographer, Videographer

Graduation year: Class of 2017

Favorite thing to do: Hang out with...