Warrior Profile: Aspiring magician William Altamirano
Do you believe in magic? If you don't, then you obviously haven't met magic man extraordinaire, sophomore William Altamirano. He is a young and budding magician, trying to make a name for himself by practicing his tricks.
"I do two things: one is traditional magic, like making cards disappear and reappear, and making coins levitate," explained Altamirano. "The other is something called card flourishing, or 'cardistry,' which is somewhat new to the hobby world." Flourishes are moving playing cards in a way that is aesthetically pleasing to the viewer, and displays the skill and finesse of the cardist.
Altamirano started practicing cardistry in eighth grade. He took it up because he had, in his words, "hit a roadblock" in his traditional magic practicing. "I took a hiatus from magic and was looking around the internet for other hobbies that were easier to get into and stumbled upon cardistry." Altamirano already had a deck of cards, so he started to practice. In a year he had learned his first flourish.
However, Altamirano hasn't had to experience learning cardistry alone. He has had help on his journey to becoming an expert flourisher. He is mentored by a professional magician, Edward Hammond. "I met him on Hawthorne one day…I saw him doing a very prestigious flourish, and I was beyond excited," stated Altamirano. "I worked up the courage and talked to him, and, of course, he performed a whole routine that was indescribable! And as I was leaving, he told me he would take me under his wing." Hammond has since moved to California; the two stay in weekly contact through Skype to practice.
All of his practice is done with the hope of being the best cardist he can be. "Personally, the end goal for me in the flourishing department is [having] my name known, and hopefully, even designing and releasing my own deck of playing cards," said Altamirano. While his flourishing is done for personal improvement, he aims to make some cold hard cash off traditional magic: "If I play my cards right, I'll be able to make a career and living off it," he said.
The path to becoming a professional magician starts small, he explained. "You do whatever you can [to] get your name out there…a big network helps, like knowing a friend who knows a friend." He plans on starting small by performing at the Saturday Market or at children's birthday parties. He plans to eventually move on to restaurant gigs, and then to even bigger performances.
Above all, Altamirano wants to excite aspiring cardists the same way he was. "I really want to have someone who just got into flourishing to watch a video or collaboration of mine, and be blown away and think, 'That's crazy, I want to be that good!' I guess I want to inspire people to do what makes them happy."
Cardistry obviously makes Altamirano ecstatic; it is hoped it can make some greenbacks appear.
Leave a Comment
About the Contributor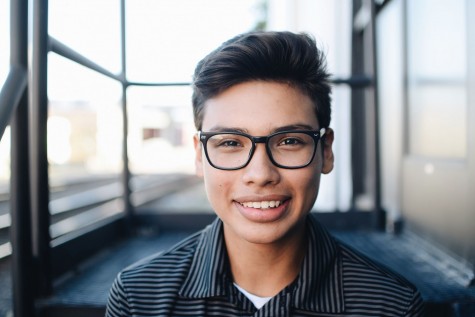 Cyrus Lyday, Editor-in-Chief
Grade

12



Favorite album?

1999 - Joey Bada$$

Favorite food?

Hot Cheetos

Favorite thing about Cleveland?

The people. Cleveland...