Boys Soccer Shoots for the Top
The varsity Cleveland soccer team is looking to find its niche in order to move forward into a winning season.
The Warriors are 1-4-0 so far this season. They have played some difficult teams, but they have given it their all and fought throughout the entirety of their games. It is junior Riley Pugh's first year on varsity and he is working to find his place.
"I think it is going well for the beginning of the season. There are a lot of new people playing together and it has been hard for us to connect as a team, but we're getting there, we're working on it," said Pugh.
Coach Scott Killen added, "We are currently searching for a team identity. I'm looking for connectivity and cohesion on the field through intrasquad leadership. When you have a handful of new players on your team, there's an adjustment period for the returning players learning how to play with these guys and there's adjustment period for the new players learning to play at a higher level."
The team was ranked 41st as of Sept. 21 in Oregon 6A and are planning on moving up. Senior captain Stellan Roberts explains, "I don't think we are more skilled than last year, but I think we are a better team because we work hard, we have the ability to be better, we play together, and we know each other. We care about how we do, rather than how an individual does."
Last year the Warriors had a tough season. They went 3-5-8 but found their way to the first round of the playoffs, ranked 23rd, where they played McMinnville. They lost 1-4 and were out of the bracket. In 2014, Stellan Roberts and Janik Karoly were honored in the 6A men's soccer all-city teams, ranked in the first and second teams retrospectively. Gunnar Boag received an honorable mention.
Despite last season's discouragement, the Warriors have brought many fresh legs to the team and are excited to take on their competitors. One of many varsity newbies, Gendit Hoxha mentioned that varsity has a "faster pace and there is more leadership. I think being with more mature players that are serious about the sport is more fun. I'm looking forward to learning because I want to gain experience and confidence."
On Sept. 10, the boys played South Salem, falling 2-4. It was an aggressive game, but not a crucial loss. "The last loss, I think was more a win for us because we found our confidence and our composure with one another and our leadership was raised one level above than our usual level," said Hoxha.
A group of spirited Cleveland students known as the "spirit squad" have been making an appearance at many of the Warriors' home games. "It's more fun playing because they're here," said Pugh.
They are pumping up the players much like a mini Timbers Army and cheering them on through thick and thin. Coach Killen praised them saying, "I have noticed them and we have actually talked to the guys about how lucky they are to have such a good support group at home games. Most schools don't get that."
Roberts agreed, "It's the best [spirit squad] of all the schools we've been to and it's the best crowd for soccer by far."
The boys are looking forward to facing other PIL teams. They play Franklin at home Sept. 29 to decide who owns Southeast. Senior Shane Kirkpatrick reported, "I'm looking forward to have more wins this season. Last year we didn't perform as well as we should [have], so I'm hoping we do better."
About the Writer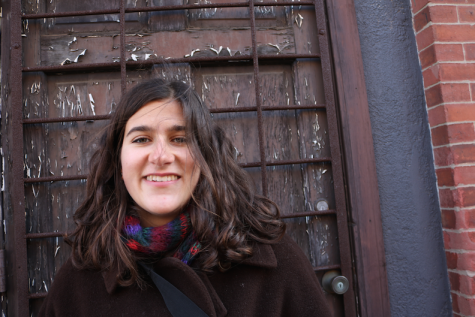 Anna Rollins, Editor-in-Chief
Position within Newspaper: Editor in Chief, Layout Editor, Spotlight Editor, Photo Editor

Graduation year: 2017

Favorite thing to do: have fun:)

Favorite...