Senior Hall Decs
The seniors' decorations were a hall to be remembered. With flappers dancing over locker wells, a real-life shack, dirt and sand covering the floors, a champagne tower, nurse tent, and real cap and gowns, they paid close attention to detail and used every available space.
The seniors took us back in time to the early and mid-1900s by transforming their hall to the bombing of Pearl Harbor, the Great Depression, 'Roaring '20s, World War I, and Cleveland's (formerly called Kelly Clinton High School of Commerce) first graduation. They chronicled the love story between Alister Walker (played by Liam Stone) and Betsy Wilson (played by Kennedy Hedges), starting with Alister's death in Pearl Harbor and then going back to when they first graduated from Cleveland in 1916.
The first scene of the hall was their living room with rose wallpaper, framed pictures of Alister and Betsy, plants, a large chair, and a white sheet with a World War II radio broadcast playing in the background. Betsy was crying, and narrator Ben Rutter explained that she had just lost her husband in the war.
The next section portrayed life during the Great Depression. A large shack and an eviction sign displayed the hardships during the Great Depression. In addition, dirt and sand were thrown in the air beforehand to replicate the dust bowl. In this scene, Alister and Betsy discussed the difficulties of making ends meet; Alister decided to re-enlist to make more money.
Transitioning into the Roaring '20s, the seniors decorated the hall like a party scene. With flappers performing a dance routine, a performer playing the drums, a champagne tower, and glimmering lights, this party scene brightened the mood of the hall. During the party, Alister proposed to Betsy and they became engaged.
Then the hall transitioned into World War I, where there was a nurses' tent with blood-stained cots, bandages, stethoscopes, medicine bottles, and gauze. Alister lay injured on the cot and Betsy (a nurse) cared for him. They recognized each other from high school and began to reconnect.
The final section of the seniors' hall was the initial graduation of Clinton Kelly High School of Commerce's senior class. A banner reading "Class of 1916" was a backdrop for the graduation scene. After Principal Tammy O'Neill called Betsy and Alister's names, the graduates threw their caps up in celebration.
"Our timeline was full of sad events in history, but through looping in a love story, we were able to shine light on happy moments even in bad times," Vice President Quinn Gonzales said.
Senior president Talia Deady recounted her favorite aspect of hall decs. "I really liked the Great Depression section because we had a real wooden shack and there was a lot of dirt and tumbleweed. The scene looked very realistic."
Having more experience greatly aided the senior's decorations. "For the first year ever, we didn't have any paper fall down overnight!" Deady said. "That doesn't seem that exciting but anyone who does hall decs knows it really is."
The seniors went out with a bang for their last year of hall decs. "It's really sad that hall decs are over because it's always one of the highlights of my year," senior Lily Hillerns said. "This last hall decs was one of my favorite [years] because everyone worked together and there was a really good vibe. You could tell everyone was having a good time."
About the Photographer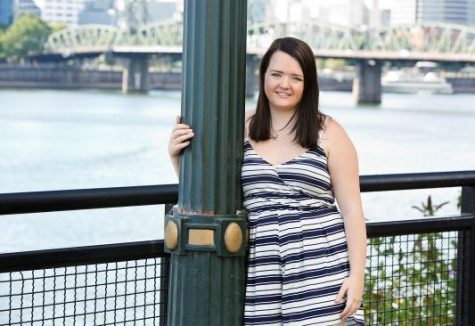 Ashley Lytle, Editor-in-Chief
Position: Editor-in-Chief, Online Editor, Page Editor, Photographer, Videographer

Graduation year: Class of 2017

Favorite thing to do: Hang out with...