Cleveland alumnus goes pro in track
Cleveland may not always be known for their great sport teams, but there's no doubt we have some talented athletes among us and in our alumni. Runner Daniel Winn, a graduate of Cleveland in 2010, has signed with the Boston Athletic Association and will be competing on their high performance team.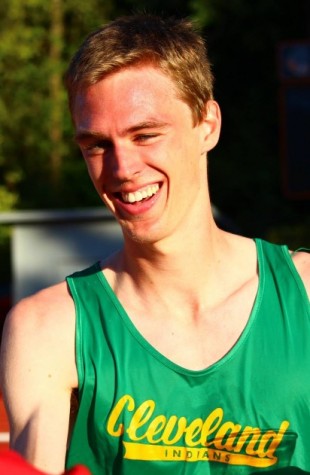 Winn never lost his Cleveland pride. This past summer, after graduating from the University of Oregon and prior to being signed, he ran many races sporting his jersey from his days running at Cleveland High School.
In his senior year at Cleveland, Winn won both the 1500- and 3000-meter races becoming the state champion. He didn't stop his running career after high school, but continued it in college.
"I didn't really start running until I got to Cleveland, though I always thought it would be something I would be good at, because I could outrun people playing football, soccer and basketball, and because my dad was a good runner. He ran 4:20 in high school, but I warned my coach, Olivia Poblacion: I won't ever run that. She immediately replied, 'You never know.'"
Currently Winn's personal record is 3:37, but he hopes to improve it to at least 3:35, which is an Olympic qualifying standard. He placed seventh at the USAs last year but Winn says this year will be harder seeing as it is an Olympic year.
Winn had a spectacular senior year at the University of Oregon. Running for the Ducks, he ran two sub-four minute miles during the indoor season of his senior year.
"There is a problem in the OSAA in which we have six divisions and way too few kids to fill all those divisions! It just dilutes competition. That was one of the reasons I thought I would improve a lot at Oregon, because it was the most competitive team in the most competitive division in the NCAA," explained Winn.
In the 1500 meters at the NCAA Division 1 outdoor meet, Winn placed ninth and then seventh in the USATF outdoor meet.
Last spring he completed his collegiate career as an All-American runner.
"What would be even better is if OSAA returned to the four divisions they had in the early 2000s. It would mean less trophies but better development. It reminds of a Mark Twain quote: 'It is better to deserve honors and not have them than to have them and not deserve them,'" Winn expressed.
Not only did Winn exceed nationally but he also took his skills to an international level when he traveled to Costa Rica during the summer where he won a silver medal for the U.S.
After achieving all of these accomplishments, Winn made the transition to become a professional athlete signing with the Boston Athletic Association (BAA).
The BAA is known as the organization that puts on the Boston Marathon. Winn will be competing on their high performance team, which according to their website, has eight other members.
Winn is excited to be furthering his running career on the BAA team.
"One nice yet dangerous thing about running is how it preserves my adolescence. In many ways I have the same goals and lifestyle I did at Cleveland! This might be disheartening news for some of my old teachers to hear, considering more than a few found me to be a little difficult. I admit that someday I'll have to get a real job, but I'm proud to be able to procrastinate on that part of my development a little bit longer. It's the finiteness of an athletic career that makes me want to cherish it all the more," expressed Winn.
"Some people, including myself, were skeptical that I would be able to extend it after high school at all, and I'm very lucky to have kept it going this long. Only at the detriment of my maturation, and little else," he said.