Multitude of reasons affect students' attendance
A recent survey conducted by the Clarion revealed an insight into an issue every school wonders how to deal with: attendance. After research conducted by the Oregon Department of Education was released on "School Attendance, Absenteeism, and Student Success," Cleveland's administrative team started asking how they could improve Cleveland's attendance rate.
With a multitude of reasons as to why students are skipping their classes and several ways administrators and teachers are hoping to fix them, the biggest hope is to open up a bridge of communication between staff and students.
According to school data from the 2014-15 school year, 448 students had chronic or severe attendance out of 1,499 students, nearly a third of the student body. The results did not show the reasons why students were chronic non-attendees, but the reasons could range from skipping, to health issues, to problems at home.  
The Clarion survey took a look specifically at the issue of skipping, and why students may do it. It was given to students in two classrooms, as well as through the Cleveland student group and class of 2017 group on Facebook.
A total of 110 students took the Clarion survey, and 65.5 percent admitted to having skipped a class. The most frequent reasons cited for skipping were peer pressure, stress, an unwelcoming atmosphere, and lack of stimulation. On the survey, students were given an open-ended chance to list their reasons for skipping, and the results were tabulated and categorized.
Out of the students surveyed, 44.8 percent reported having experienced peer pressure to skip a class. Giving advice to her fellow classmates, senior Sydney Williams said, "Don't let your boyfriend/girlfriend/friends pressure you into skipping. It's an awful habit and a waste of your time. Your education is your priority and once you start skipping, it's so hard to stop."
"Peer pressure is one of the stronger temptations or influences we have in the building. I would say 50 percent of the infractions that occur occurred because a kid didn't say no to peer pressure. Giving kids strategies to help them say no or make a better decision is what we are focusing on trying to do," explained Cleveland Vice Principal Darryl Miles.
When asked to rate how safe they felt at Cleveland, 22 percent of the surveyed students rated their feeling of safety to be a one through five out of 10, one being low. Conversely, 78 percent rated the school six through 10. "Safe" in this context is safe either emotionally or physically, or safe to express themselves and or/their opinions.
"I think it has a lot to do with something I've been trying to do since I've been here, which is get kids to understand what empathy is. A lot of kids that come to Cleveland haven't haven't had opportunities of exposure to anything except what they've grown up in. It's not a bad thing, but it conditions people to think that everyone's experience is like theirs," said Miles.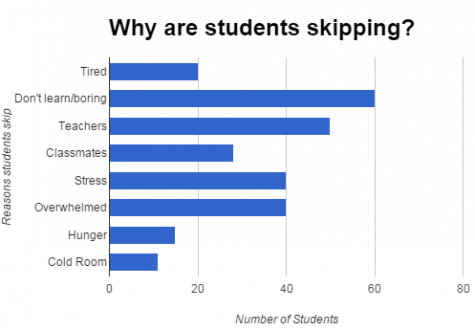 The 65.5 percent who reported having skipped before stated multiple reasons when asked to explain why they had chosen to skip class. A total of 83.3 percent of them stated their decision was due to a lack of learning in a particular class or the class being "boring."
Almost 70 percent of students reported skipping because of their teacher. Often students said the teacher did not provide a welcoming atmosphere, or they felt their teacher just didn't care about their job anymore.
"If the teacher is engaging, I want to go because I know I'll be getting something out of it. If I know I'm going to be confused and feel bad about myself or just be really bored, I'll be less likely to go," said sophomore Simone Holmes.
Cleveland's AVID site coordinator, John Golden said, "I'm staggered at the thought that there are students here in this building who feel as though their teachers are not providing a welcoming environment. That is just so deeply saddening to me. I'm a father of a freshman and I'd say definitely the majority of our faculty here do [provide a welcoming environment], but we all have to be thinking about these students being our own children. The notion that many of our children feel unsafe here is just making me so so sad."
The third top reason was a tie between feeling stressed or overwhelmed; 55.6 percent of the students stated one or both of those as a reason for not attending class. A total of 80 percent of all the students surveyed rated their stress level over the last two weeks a six through ten, out of a one through ten scale, ten being extremely stressed.
"I'd say close to 68-70 percent [of students] do some form of I.B. class. It's time consuming, you have to make sacrifices. You as the individual have to govern yourself. If you as a student haven't figured out how to manage yourself, then that's added stress," expressed Miles.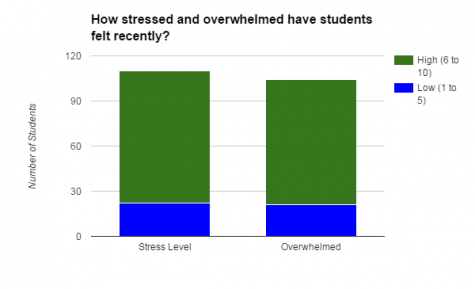 "One of the things we are hoping to do in the spring, (social studies teacher) Tim Graham and I are trying to arrange what we are calling a homework summit. The homework summit will bring together parents, teachers, students and administrators to talk about what our expectations are for homework for students to do outside of school. My feeling is that being in school is your job, so why then are we basically going to add more work when you are already doing a full time job here? One of the areas I think a school can control is the amount, type, and expectations of homework on our teenagers and I think we absolutely have to address it. I don't think that's the source of all teenager stress, but I think it's an area a school can control," said Golden.
Other reasons for skipping students gave were their classmates, feeling tired or hungry, and even cold classrooms.
Williams explained why she has chosen to skip in the past, saying, "The teacher and how much the class discusses the curriculum [affect my decision]. If no one's discussing or interacting, especially in some I.B. classes, it feels pointless to be there. You go to class to expand your thinking and your peers help with that. If no one is willing to participate, then what's the point?"
With communication and education for both staff and students Cleveland hopes to improve upon an issue that plagues schools across the nation.