MAC Cosmetics' Vibe Tribe Appropriates Native Culture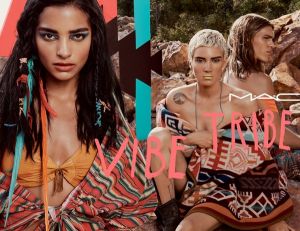 In a world that dishonors culture, infringes upon copyrighted art, and trivializes spiritual symbols, nothing is sacred, it seems. This is 2016, and we sadly are no strangers to this abhorrent adulteration of marginalized groups. We know this form of bigotry by the name of cultural appropriation, and its reverberations can be felt in virtually every form of media, styled in every shop window, and romanticized in every dusty school textbook. But when colossal corporations misappropriate native art, perpetuate fallacious stereotypes of a culture, spread massive lies, and deny all involvement, we must ask, "When is enough, enough?"
MAC Cosmetics, founded in 1984, is a vastly esteemed brand, known for high-quality products, rich shades and pigments, sleek packaging, and excellent customer service. The $6.3 billion dollar company is widely regarded as the Prada of the makeup world, approaching $10 billion in sales revenue in 2012. Basically, MAC is the equivalent of makeup royalty.
Recently, however, MAC has undergone some serious heat for their summer collection, "Vibe Tribe," released May 12, 2016. "I am completely dumbfounded," stated junior Lexi Moyer, proud member of the Lakota Sioux tribe, upon hearing the news of the debut. "I thought 2016 was the year that people were going to try harder to be respectful."
"Vibe Tribe" features a variety of products, ranging from blush to lipstick to foundation. The packaging is accentuated by teal, orange, chocolate, and tan geometric designs that bear a striking resemblance to Native American prints from the southwest. The products are adorned with innovative names, the select favorites listed as "Painted Canyon," "Arrowhead," "Adobe Brick," "Call of the Canyon," and "Wild Horses." MAC's campaign also highlights ethnic-looking models, dressed in heavy, printed blankets and decorated with leather and feather hair pieces. All factors considered—including the use of the word "tribe" in the collection name—this line undoubtedly has Native ties. Yet, according to MAC, the collection is in no way affiliated with or inspired by Indigenous people.
Unfortunately, MAC's Vibe Tribe is just one of the many instances in which native art has been plagiarized without apology. In 2013, Chanel debuted its Métiers d'Art collection, showcasing traditional First Nations headdresses. This, of course, came without heed to copyright laws, and brought the designer under fire with native communities. This was considered a major act of disrespect by many, as a traditional headdress is earned through displays of leadership and selflessness.
Additionally, a Canadian design duo, Dsquared2, prompted an uproar with its "Dsquaw" collection in fall of 2015. This ensemble boasted "tribal print" leggings, fur and leather coats, and feather accents. This company mostly went under fire for the collection's name; "squaw" is considered a racial slur and ignorantly slanders Native American women. Free People was also on the list of offenders, primarily for their April 2016 launched "Festival Shop," which featured several items that appropriated First Nations people. This included $353 feathered headdresses, $280 ear cuffs, $182 "spirit animals" essential oils, $111 medicine pouches, $96 rain sticks, and $68 beaded chokers. Most of the campaign's models were also white and blonde. This, of course, was offensive on a number of levels, though the medicine pouches were perhaps the most damaging. Medicine bags are considered divine symbols, and are believed by many to contain items the owner regards as intrinsic to their spirit. Not only were these spiritual symbols sold for profit (of which none went to Indigenous peoples, the creators), but in the process, Chanel, Dsquared2, and Free People defaced the native name.
These companies are just a few of the thousands that appropriate native culture every day. "There isn't a place that I've been or seen that isn't appropriating culture from commonly marginalized peoples," said Moyer. At this point, you might be asking, who cares? Aren't these companies just paying tribute to Native American cultures? No. "When Native American communities are struggling with abuse, violence, suicide, rape, poverty, racial [targeting], and so much more, nobody hears about it. When MAC Cosmetics releases a new line that displays Native American culture, everyone loves it," said Moyer. "Americans love Indigenous culture but hate to even think about Indigenous people. Native people see this; they understand that they are not valued by many Americans. This can lead to institutionalized racism [and] self-hate, and often times this hate recycles over and over again in our families."
When a culture is appropriated, the identities of the people behind that culture are stolen. This discrimination promotes the power dynamic of cultural appropriation that grants dominant groups the authority to suppress marginalized peoples. It trivializes the violent historical oppression behind these groups, and lets privileged people profit from the labor of the persecuted. Cultural appropriation lets dominant groups show love for a culture, but lack knowledge of its origins, history, or values, and remain prejudiced against its people. Quite simply, this bigotry perpetuates racist stereotypes, and it is not acceptable.
To some, Vibe Tribe may seem like just a makeup line, but to many natives, it symbolizes the decades of oppression that they have undergone. It represents hundreds of years of violence, misconceptions, and bigotry, and it embodies the issues that are still present within native communities today. We are screaming loud and clear that enough is enough, and we aren't going to stand for this discrimination any longer. "Tribal" is not a trend—it's a system of cultures. It's time that we noticed that.