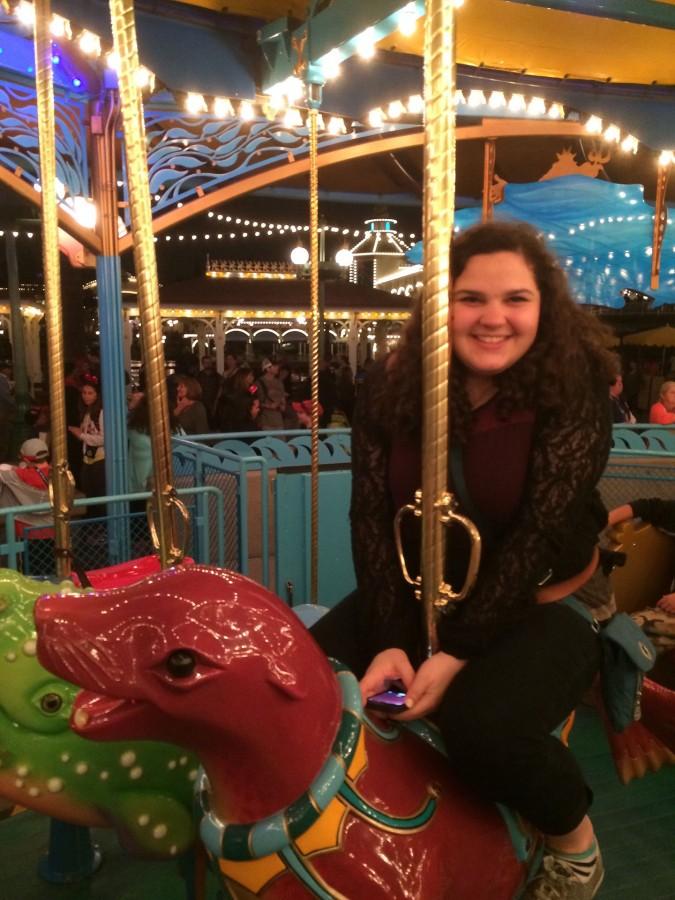 Position within Newspaper:
Editor-in-Chief, Content Editor, Copy Editor
Graduation year:
2017
Favorite thing to do:
I am a passionate writer and an avid reader.
Favorite book:
Ah! That's like asking me to pick a favorite child.
Favorite movie:
You can always count on a thrilling action or a sappy rom-com to brighten your day.
Die Hard
and
When Harry Met Sally
are two personal favorites!
Favorite food:
Miso soup, sushi, and steamed rice are the ultimate combination.  
Favorite quote:
"You're braver than you believe, stronger than you seem, and smarter than you think." –Winnie the Pooh
Ally Grimaldi, Editor-in-Chief
Jun 08, 2017

Senior Sentiments

(Story)

Jun 06, 2017

Weightism? What's that?

(Story)

Jun 04, 2017

What is Rape Culture?

(Story)

Jun 03, 2017

Eight Ways to Save Money and Go Green

(Story)

Apr 27, 2017

The Good, the Bad, and the Ugly of Ethics in Zoos

(Story)

Apr 25, 2017

Senior Year, College Applications, and Scholarships: A How-To Guide

(Story)

Mar 21, 2017

Love Column: Summertime Love

(Story)

Mar 07, 2017

Disaster is Making its Way to the EPA

(Story/Media)

Feb 11, 2017

Protestation vs Patriotism: Burning the American Flag

(Story)

Feb 02, 2017
Jan 16, 2017

Veganism: Good for You and Good for the World

(Story)

Jan 02, 2017

Election Fallout: The Wall We Built

(Story)

Dec 27, 2016

The Real and Pressing Reality of Climate Change Under Trump

(Story/Media)

Dec 06, 2016

Gone in Seven Seconds but Forever in our Memory

(Media)

Nov 02, 2016

The Voter's Guide: 2016 Oregon Ballot Measures

(Story)

Oct 22, 2016

Hall Decs: The Waste of an Honored Tradition

(Story/Media)

Oct 06, 2016

Dear Hillary Haters

(Story)

Sep 26, 2016

Cleveland Constitution Ratification: The fine print

(Story)

Jul 12, 2016

Cleveland's animal advocacy club attends animal rights conference

(Story)

Jul 11, 2016

Stanford rape case: Is this justice?

(Story)

May 30, 2016

MAC Cosmetics' Vibe Tribe Appropriates Native Culture

(Story)

May 10, 2016

The flaws in our current education system

(Story)

Apr 27, 2016

Barbie's standards for beauty affect children's perceptions on the world

(Story)

Apr 13, 2016

Standardized tests benefit the College Board and no one else

(Story)

Mar 08, 2016

The morality of Apple's backdoor

(Story)

Mar 08, 2016

Hannah is not as humane as you may have thought

(Story)

Feb 13, 2016

Measure 2016-040 could make Oregon an English-only state

(Story)

Jan 19, 2016

Negative stereotypes can affect police officers too

(Story)

Jan 19, 2016

The misrepresentation of Muslims in the media

(Story)

Dec 13, 2015

Winter formal withheld: Both sides of the story

(Story)

Dec 03, 2015

Proficiency-Based Grading: Something to Jump For or Cry Over?

(Story)

Dec 01, 2015

Colleges are collecting information about you

(Story)

Oct 15, 2015

Clarion Top Ten: Tweets You So Didn't Tweet

(Story)

Oct 15, 2015
Oct 04, 2015

Planned Parenthood fiasco over false accusations and assumptions

(Story)

Oct 04, 2015

The goal for gender roles

(Story)

May 26, 2015

Patriotism lacking among the student body

(Story)

May 26, 2015

Have an open heart: America's transgender moment

(Story)

May 06, 2015

In search of the elusive healthy tan

(Story)

Apr 22, 2015

Rethinking opposition to SBAC tests

(Story)

Mar 18, 2015

Why you should get vaccinated

(Story)