Give Back this Holiday Season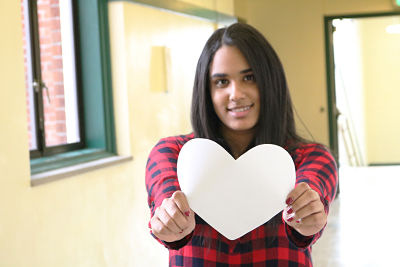 Hanukkah, Christmas, and New Years are right around the corner and we're all sitting on the edge of our seats waiting for them. Everything is jolly, right? Or is that not correct? The once heartwarming holidays now serve the purpose of bringing out the selfish part of every one of us.
You could argue with me the holidays are all about friends and family, but let's be real. You've been dreaming about plates full of food, that present you've been "dying" for, and maybe who you're gonna kiss on New Year's Eve. Yes, many of us enjoy the time we get to spend with those we care about, but we do look forward to the perks each holiday offers us–and we make sure to take full advantage of them.
Where did the purpose of each holiday get lost? I'm not sure that'll ever be answerable, but it's not too late to change.
This holiday season, think of those who are on the streets, who won't be getting a large, hot meal to eat surrounded by family, who won't have presents waiting for them, and whose wish for New Years is about being able to survive.
As we reflect and think about our community, consider giving back this holiday season, something many partake in each year.
On the first week of December, Cleveland's Key Club will be serving food to the homeless at St. Francis. Cleveland's leadership class has organized a dance clothing drive to help make it possible for everyone to attend the upcoming winter semi-formal dance. And there's the CHS Gives Back drive, run by freshman leadership teacher Susie Brighouse, that's serving as a competition between each grade, with the hope to give back to our community. They're collecting food, hygiene products, toys, and more. Cleveland is giving back this holiday. Think about joining the trend.
Whether joining in one of those activities or participating in another, you can't go wrong.
SnowCap serves people who live east of 82nd and within Multnomah County. They provide food, clothes, household items, back to school supplies, and more! You can volunteer or donate to them (snowcap.org).
The Portland Rescue Mission serves to help the homeless population in Portland. They accept donations and periodically have volunteer opportunities (portlandrescuemission.org).
Family Dogs New Life shelter is a non-profit no-kill dog shelter located in SE Portland (familydogsnewlife.org). The Oregon Humane Society is another animal shelter located in NE Portland (oregonhumane.org). There are opportunities for you to volunteer at both places or you could simply donate in support of what they do.
Donating is a super simple way to give back. You can give to a number of different causes or organizations. Some examples are Standing Rock, Black Lives Matter, American Cancer Society, UNICEF, or Planned Parenthood. A camp I particularly like that you could donate to is Youth Empowered Action (yeacamp.org). It helps educate and empower young activists. 
One of my favorite organizations is Practice Kindness. Volunteers are mostly active around the holidays, taking kids to stores where they hide money, offering to pay for a few people's purchases, and helping carry those people's bags to their car. Every time they have one of these events they post a video on their YouTube channel letting you experience the joy of what they're doing. You can donate to help them continue their work or request practice kindness cards yourself to pass on their message (practicekindness.org).
There's also clothing closets and the KATU toy drive. The possibilities are endless.
If none of those appeal to you consider just doing a random act of kindness. You could pay for someone's meal or get creative, like making uplifting cards for strangers on the street or someone you may not know very well.
No matter what you choose to do your holiday will have been spent well when you know you helped someone out.