100 Warriors: Luisa Potestio's journey to Cleveland
From the Rams to the Warriors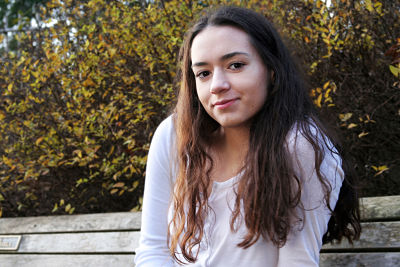 From private school to public school: A year into her time at Cleveland, senior Luisa Potestio looks back at her transition from Central Catholic to Cleveland fondly.
Potestio transferred to Cleveland halfway through her junior year. The main reason she transferred: The cost. Central had simply become too expensive to warrant her continuing her education there, and so she set off to see if Cleveland could offer her a place.
"The hardest part was transferring halfway through and not knowing many people. The easiest part was having my best friend already attending [Cleveland], as well as how nice and welcoming everyone is," said Potestio.
"At Central Catholic, it was really strict and [I] had to follow a lot of restricted rules," said Potestio. "Classes were way harder at Central than at Cleveland and the workload was a lot. At Cleveland, you get more freedom to do what you want and not have to be worried about school all the time. Socially, Central was very clique-y and Cleveland is [also] but [only] to an extent because people are nicer and included more [here]. Cleveland is more accepting of uniqueness and being different than Central."
Potestio has been playing basketball for approximately seven years, this year joining the Cleveland varsity team. She acknowledged that basketball has played a role on her adjustment between schools. "Everyone on the team is so amazing, caring, and so nice. I made friends that I know I'll have for a lifetime and I couldn't ask for anything better… They were all very welcoming," said Potestio. One of her favorite memories while attending Cleveland is the annual beach trip that the girls' basketball team takes. They use the time to work out and get a jump start on bonding.
Adjusting from a heavily-funded private school to an underfunded public school was an extreme change for Potestio. She remembers asking her friends if Cleveland allowed students to borrow money for lunch–as she had done at Central–and the shock they displayed over such an idea. For her, it had been a daily reality, yet at Cleveland such opportunities were never even heard of.
Now that Potestio is here, she's glad she made the transition. Not only does she no longer have to think about the cost of getting her high school diploma, but she was also able to let go of a lot of the stress Central classes had caused her. Cleveland offered her the increased freedom she wanted, as she attempts to figure out what's next for her after high school. As she nears graduation this June, she's looking forward to celebrating her Cleveland classmates as well as her own high school accomplishments and all of their future plans.
Cleveland's welcoming atmosphere helped Potestio quickly adjust to her new surroundings. It proved to her that the decision to transfer was indeed the right one. At Cleveland, new students "shouldn't be worried, because no matter who you are or what you like, there are other people who like that too and won't judge you for it," said Potestio.