Pigmice is Giving the Community a Push
Pigmice, Cleveland's robotics team, created a brighter future for two young ones.
International Baccalaureate (IB) students have an obligation to achieve a total of 150 hours that incorporate creativity, active hours, and service, and three of those diploma students went above the expected to reach out to the community.
On Tuesday, May 9, seniors Alexander Baird-Appleton, Jaden Berger, and Lauren Cress presented their IB CAS projects to not only Cleveland, but to two young members of the community as well. Their project was designing and creating two joystick-modified vehicles to donate to two families with children who are in need of a wheelchair.
The three seniors discovered how hard it is for families with children in need of a wheelchair to receive one at an affordable price, so with about $300 and a total of around 20 hours of hard work, Baird-Appleton, Berger, and Cress, along with Pigmice, were able to create these modified vehicles to change two kids' lives.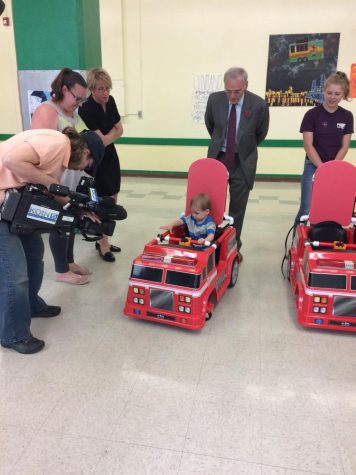 "The reason we decided to go out on this adventure was one, because we have an obligation to as IB students, but more so than that because wheelchairs for little kids cost a lot of money," Baird-Appleton explained. "It's like $20,000 dollars for a chair, and if the kid can't prove that they have joystick training, then those insurance companies won't fund it at all, so we're trying to put together these chairs because they're a lot cheaper."
Their main goal for this project was to bring about awareness to the hardships families face with the difficulty of affording mobility devices.
Their inspiration to follow through with this project arose from a fellow robotics team. The South Eugene Robotics Team presented their versions of modified vehicles for children with disabilities. Their team created their vehicles through a program called "Go Baby Go," which provided instructions to building the vehicles. Through that, Pigmice was able to obtain those instructions and get started with their own.
"We organized with the robotics team and a local group called 'Nasty Women Get Stuff Done' to get money for these modified vehicles and build two of them," Berger described. "They help give joystick experience to children. They help remove stigma that comes with a lot of mobility assisting devices because they look like toys, and what kid wouldn't want a cool fire truck to drive around all the time? They also help with mobility."
The vehicles were designed as small fire trucks to make the experience less scary and mor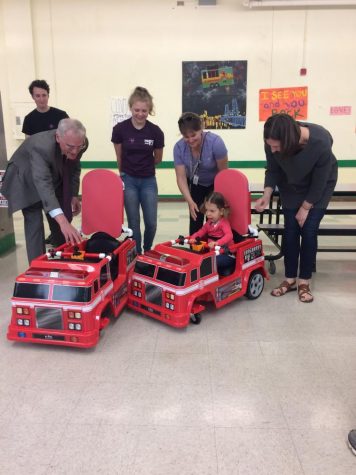 e favorable to young kids.
The children that the vehicles were being donated to were able to take a test run at Cleveland, where staff, the local news outlets, and even congressman Earl Blumenauer attended the presentation. Blumenauer stated, "I just think it's a terrific influence in terms of being able to have some of the amazing things that are happening in our schools. We have young people like this demonstrating their skills, preparing for the future and making a difference right now."
These Cleveland students have proved how they have committed to making a difference in our community and have given mobility and independence to children that need it the most.