100 Warriors: Peter Za Wins Award from Yale
Cleveland junior Peter Za is one of 20 recipients of the first annual Yale Bassett Awards for Community Engagement. "The award honors emerging leaders who have distinguished themselves through a record of creative leadership and public service, academic distinction, interdisciplinary problem solving, and experience addressing societal issues," stated the Yale News website.
The award was established by the faculty in Yale's Center for the Study of Race, Indigeneity, and Transnational Migration (RITM) in honor of Ebenezer Bassett. Bassett was born in 1833 and passed away in 1908. Throughout his life, he was an abolitionist, educator, and a public servant. He additionally served as the first African-American diplomat for the United States. He attended the Connecticut Normal School (now known as Central Connecticut State University) as well as Yale College.
There were over 800 applicants from a total of 46 states, the District of Columbia, and military dependents. From the 800 applicants, 40 were selected as semi-finalists and half of them were selected to win the award.
Za first learned about the opportunity to apply for the award thanks to Cleveland's College and Career Center (CCC) volunteer, Jenny Rockwood. He is grateful for the help he received from Rockwood, explaining that she helped him throughout the application process, especially with spelling and grammar. English is Za's fourth language. Born in a Thailand refugee camp, Za learned to speak Thai. At home, he speaks Karen and Burmese. Currently, Za is learning to speak Mandarin. Rockwood would read over Za's essays to help him with his English grammar.
Za voiced how involved in his community he was. He's been playing soccer since he was three years old. Along with continuing his soccer career, he spends time teaching other youth in his apartment building the game.
Through Cleveland's involvement with the Future Business Leaders of America (FBLA), Key Club, and National Honor Society (NHS), Za has found even more ways to contribute to bettering his community. One example he gave was his work over the past two to three years helping out at Schoolhouse Supplies on Madison with FBLA.
Za attends the Burmese Church that is a part of the City Bible Church. He frequently finds opportunities to volunteer through them. One of the volunteer opportunities he participates in is going downtown to help those who are homeless.
"I'm really happy. Out of many students in the nation, only 20 were chosen. When I got the letter I was really excited. I went to my mom and told her about this opportunity and the award I got… She's really happy for me," expressed Za.
Za and the other winners will receive a book signed by the dean of Yale College and an invitation to visit campus for a get together next October. During the visit, students will be allowed to participate in the Multicultural Open House, which is sponsored by Yale's Office of Undergraduate Admissions. "Hopefully [the trip] is paid for. Otherwise I will have to find other ways to pay for the trip," said Za.
"Along with other members of our faculty committee, I was deeply impressed by the high school students from around the country whom we considered for the Yale Bassett Award,'' said director of the Yale Center for the Study of Race, Indigeneity, and Transnational Migration and history professor Stephen Pitti in an interview with Yale News. "It was moving to learn about their dedication to public service and leadership, their commitment to social change, and their accomplishments as scholars. This year's Yale Bassett Award winners already play key roles in their communities, and we are thrilled to imagine all that they will do in the years to come."
About the Contributor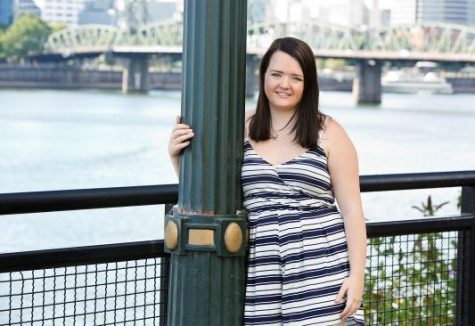 Ashley Lytle, Editor-in-Chief
Position: Editor-in-Chief, Online Editor, Page Editor, Photographer, Videographer

Graduation year: Class of 2017

Favorite thing to do: Hang out with...