Senior Sentiments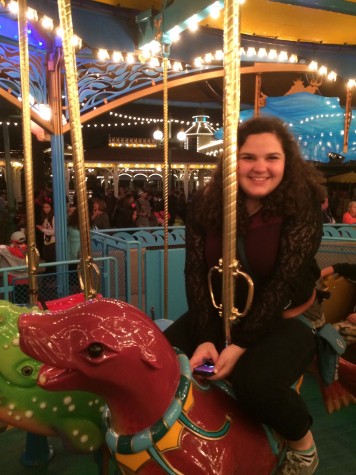 I can distinctly pinpoint the proudest moment of my high school career. It started with ten beautiful words: "I would like to offer you the position of Editor-in-Chief."
When I heard those words, I couldn't control my toes. Without restraint, I jumped into the air and released a long, uninhibited squeal. I was far too gleeful to be embarrassed.
The Clarion is a team of wildly talented writers, photographers, graphic designers, and artists. We come from different backgrounds, but regardless, we are family. As family, we get on each other's nerves, steal chairs and computers, argue about censorship, tease each other, stress together, and laugh. Despite all our dysfunction, together, we produce the best newspaper in the Pacific Northwest. We are a beautiful chaos.
In her class of 2016 staff biography, Emily Diamond, former Editor-in-Chief, penned that room 368 was where she found her home. Ever since I first heard this, the sentiment has continued to resonate with me. In the wise words of (the immortal) Jan Watt, the Clarion has had one of the best staffs this year that Cleveland has had in decades, and in our eyes, it's all thanks to the greatest advisor we could ever ask for. Because of my staff's love and support, I can proudly say that I found my home at Cleveland with the Clarion. They say that home is where the heart is, and our humble newspaper is unquestionably and unequivocally at the center of the Cleveland heart and spirit.
As we seniors graduate and move onto bigger and brighter futures, we will always look back fondly at our time with the Clarion. Through the Clarion's gentle talons, we have leased life to ideas, followed a roadmap of stories, and given a voice to the voiceless and a pen to the powerless. In writing, we have stood up for what we believed in, and have sometimes suffered the consequences. Despite the forces that threaten to drown media credibility, we have held our heads strong and done justice to the freedom of press. We have many things to be proud of.
As I walk across the stage to accept my diploma, I know that I will always have a home at Cleveland. Within the walls of room 368 reside chaos, talent, inspiration, and family. Because of them, I walk with the confidence that I am never alone.
As our senior editors pass the torch off to the next generation of writers, photographers, graphic designers, and artists, we know that our legacy burns bright and fearless, as theirs will too. We say goodbye, fair reader, and step forward into another day.
For now, I'll say it one last time… The Clarion, welcome home.