Cleveland's graduation rate above state average
As we make our way through high school–some to college, some with alternative plans–many don't stop to think about dropping out. However, the reality of the situation is that every year in the United States, thousands–if not more–do.
Meanwhile, Cleveland High School is continuing to steadily improve its graduation rate. Keeping an eye on not just the student body as a whole but also the individual smaller groups, such as students with disabilities and the different races, is one of the ways Cleveland continues to raise its graduation rate.
"Over the last five years we have had a nine percent increase, which is good. Two years ago we were at 76 percent, last year we were at 82 percent and [in 2014] we were at 83 percent," said Paul Cook, Cleveland High School principal. "Hopefully we will get some more support from the state and support as far as financing and hiring more staff, teachers, and support staff included."
Although the rate is rising, there is always room for some improvement.  "I think we can improve by offering more opportunities for kids that are different than what you see right now. We don't have a lot of different alternatives for electives or structure where a student can come maybe for a couple periods and then they work for part of the day or they get an internship for part of the day," Cook said.
Jobs and internships help students to make the connection between what they want to do with their life and what they are learning. It helps them to see why they have to learn math, English, science, and other subjects taught within school.
"I am still very proud of our students and our staff for their hard work over the past several years, and our graduation rate is continuing to go up," expressed Cook.
Oregon's graduating high school class in 2013 had a 69 percent graduation rate, landing Oregon ranked with one of the lowest graduation rates in the nation (with only Idaho below us), whereas the national high school graduation rate average was 81 percent.
"I think there is always room for improvement and that's when you start comparing state to state and definitely it is out there that this state is one of the lowest in the whole country," said Cook.
Oregon's class of 2014, the most recent data available,  had 72 percent of its high school students graduate on time. Some believe the three percent change really has everything to do with a change in what Oregon counted in their stats as graduating. The changes made it so all special education students who earned modified diplomas and students who postponed receiving their diplomas so they could attend a year at community college for free were included as graduating on time.
Although the increase in Oregon's graduation rate is a step in the right direction, statewide, 12,800 students in the class of 2014 did not manage to earn a diploma within four years. Of those, 70 percent of the students are from low-income families. Additionally, 62 percent of the students who didn't finish on time were white and 23 percent were latino. Of the 12,800 students, 59 percent of them were male. Approximately 3,850 students who fell short of graduating on time returned to high school in order to attend a fifth year.
High school dropouts tend to go on to have lower paying jobs and a higher rate of unemployment. They also have a higher chance of being incarcerated or of having an addiction at one point in their life.
Only 49 percent of students with disabilities in the 2013 graduating class in Oregon, and 52 percent of students who were learning English as a second language graduated on time.
"For some students, the four years in high school is not a match for them, but there are other opportunities such as a strong career-based alternative school that would allow them to possibly work in areas that they have strengths in, that they have passion for. For some students they just don't see that connection for them in school and what other options do we have for them, so that is what we have to find out," said Cook.
Oregon also has one of the nation's worst absenteeism rates starting in kindergarten. With such a high absenteeism rate at such a young age, it is believed by some to actually cause the low graduation rates we are seeing in high schools today.
In the United States, only 18 states still allow students under the age of 18 to drop out. The nation's dropout rate is at an all-time low along with the nations on time graduation rate, and it's time for Oregon to catch up.
Leave a Comment
About the Contributor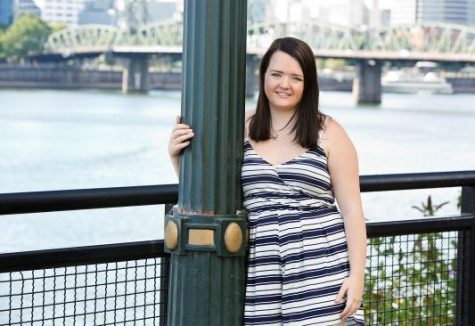 Ashley Lytle, Editor-in-Chief
Position: Editor-in-Chief, Online Editor, Page Editor, Photographer, Videographer

Graduation year: Class of 2017

Favorite thing to do: Hang out with...