10 Questions: Sawyer Jackson, elite fencer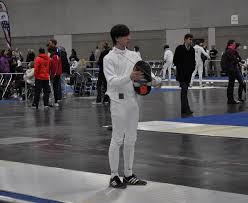 Sawyer Jackson, a Cleveland sophomore, has already shown major success within his fencing career, attending and placing at the Junior Olympics.  From being inspired by fictional movies, to snacking on circular fruit, Jackson has the skills to continue his upward trend.
At what age did you start fencing?
I started fencing at seven, but I only really started getting competitive at 13 or 14.
What got you into it?
My cousin fenced, and was fairly good; that, combined with the fact that I had just seen "The Princess Bride," was basically how I got into it.
Do you plan to continue after high school?  
I am planning on possibly trying to get into a school where I can fence competitively for the college, but I don't know whether or not that is going to happen. Scholarships for fencing are difficult to get because it's not the most popular sport. It's becoming more popular, but scholarships are hard to come by.
What has been your biggest success?
I think that my biggest success was this year. I finished within the top 32 in the country in fencing in the Junior Olympics.
How does the competition circuit work?
Every couple of months there is a North American Cup, which adds to the rolling points seating list–which is basically who's first, who's second, who's third, etc.  Each tournament, you have a round to determine where you are seated within that particular tournament. Then, you are matched up with someone who is on the opposite end, and it works the same way as many elimination tournaments work, where it's a bracket and you divide by two every time.
What is your pre-bout routine/ritual?
It differs between practice and tournament; during practice it is basically… who should I fence?  During tournaments it's: OK, I'm going to take a swig of Gatorade, eat a pineapple ring, and then I'll–you know–maybe practice a little bit…sometimes.
Do you fence for a team or are you an independent competitor?
My club, [Northwest Fencing Center], doesn't really have set teams, so I'm mostly an individual.  But every North American Cup, there is normally at least one team event, and I usually fence with my teammates Jacob Brown and Kaiden Crotchett.
Can you tell us more about your club?
Northwest Fencing Center in Beaverton is internationally renowned, and they have some of the best coaches in the country there. They only allow people who are six-years-old or older to start fencing, for obvious reasons.  They have 14-years-old and up classes in the evening, and younger than 14 in the morning and early afternoon.  If anyone wants to try it, they offer a week free with some of the best in the country.
How often do you practice?  How many hours a week?
Per week, I try and be in four nights a week from six to around nine…so about 12 hours a week.
If you could pick one pump-up song, what would it be?  
That's so hard!  I have listened to everything from classical to modern pop while warming up.  It doesn't really matter what it is, as long as there is a beat I can follow.
View Comments (1)