Buy and Sell Facebook page takes off
Junior Lizzy Thompson created a Facebook page called Cleveland Buy and Sell in February that has led to a clothing exchange craze within the school. Students post pictures of clothing they want to sell, and the first person to comment on the item becomes the purchaser. The seller then proceeds to bring their consigned clothing to school to allow the commenters from the page a chance to try things on.
A comical phenomenon has arisen because of this "trying on" element. The second floor girls bathroom becomes a teeming exchange zone during lunch periods. Walking through the doors, it is often so crowded with girls and their garments it is difficult to get to a stall, and a peak in the mirror is out of the question.
"I still feel weird going into the bathroom at lunch and seeing how many people are so into the page. I think it's cool I started [a trend] and I laugh to myself when I hear people talking about it in the halls," Thompson said.
With  327 members as of May 27, Cleveland Buy and Sell continues to grow each day. Some users are become regulars because of how simple the process is. Rather than having to go to a consignment shop, risk rejection, and not receive money for weeks, students are able to sell straight from their homes. All they have to do is throw the items up for purchase into their school bag in the morning when they get a buyer. Then it is instant cash.
"I began selling my clothes for $3-$6 and people immediately started buying," sophomore Sydney DeShazo said.
Low prices let everyone participate, regardless of where they stand financially. Thompson said her goal was to mimic a secondhand store's price range so everyone was getting a good deal. The affordability and openness of the page allows students to share their love of clothes with one another regardless of what social group they normally fall into. A senior may sell to a freshman or vice versa.
"We all have unique, amazing styles, and we like to share that with each other. It's a bonding experience in a way because many people have met up due to the page and become friends afterwards," DeShazo said.
The fact that the buy and sell concept has become so popular among the student body makes a statement about Cleveland's culture regarding clothing choices and overall acceptance.
"The page shows how comfortable and open we are with each other," junior Suqi Soleil said.
The way students dress is an extension of their personality, how they feel in their environment, and the way they want to be perceived by others. Walking through the halls at Cleveland people are complimented left and right for wearing clothes that are unique and interesting. Individuality is celebrated, rather than the conformity most people associate with the typical high school experience. The Goodwill Bins is a popular shopping destination for Clevelanders because the clothing selection is completely one of a kind. Buying garments other people have already worn is not looked down upon, as clearly shown by the success of the Facebook page.
Juniors Taylor Allen and Willow Kelly attended other high schools before coming to Cleveland. Kelly transferred as a sophomore and Allen, just months ago, as a junior. Their experiences with style at their previous schools differed greatly from the culture they now are immersed in at Cleveland.
"At my old school, ACMA (Arts & Communication Magnet Academy), the way people dressed was different. It was cooler to buy nicer clothes, and I often felt uncomfortable because of the pressure to dress the way everyone else did," Allen said.
Kelly felt similarly out of place during her time at Milwaukie Academy of the Arts.
"At the school I attended freshman year, everything was black and white; there was only one style," she said. "I was looked down upon as the hippie girl who dressed strange and didn't wear brand clothing."
At Cleveland they feel accepted regardless of their clothing choices. People don't have to fit within a certain mold.
"Here it is considered cool to express yourself rather than blend in. It feels much healthier," Allen said.
Leave a Comment
About the Contributor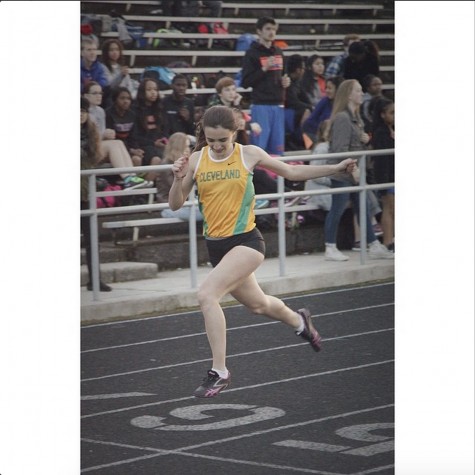 Annalena Eckton, Reporter
Grade

What's on the bookshelf?

Favorite food?

Favorite thing about Cleveland?