Senior Staff Biographies: Another year of goodbyes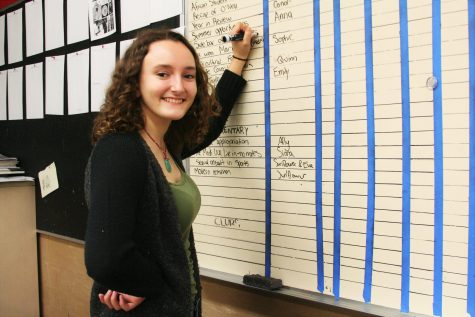 Emily Diamond
For the past two years, room 370 has been my home. In this room, I have met talented journalists, gained friendships and mentors, grown as a writer, and found my voice.
During my first year on The Clarion, I reported controversial education stories researched health topics, and covered sports stories. It was in the first few months that I truly found my skills as a journalist. I learned how to find breaking news, effectively interview, and weave quotes and facts into an informative piece. Additionally, I experimented with videography; I created videos about SAFER as well as introverts and extroverts in education.
At the end of my first year on newspaper, I knew I wanted to take my journalistic passion to a higher level. For the upcoming year, I was named Story Editor as well as one of four Editors-in-Chief.
My role as Editor was simultaneously rewarding and challenging. With the larger leadership role, I was in charge of managing all stories and mentoring reporters as well as writing my own articles.
The highlight of my year was when a story I wrote with co-Editor-in-Chief Cyrus Lyday about winter formal being withheld from the student body went international. I never expected to have one of my stories featured on 81 news sources, including the Today Show and NY Daily, plus an international site.
Another positive experience for me has been introducing 100 Warriors with Quinn Gonzales.Through this series, I have been exposed to the diverse and talented students that make up Cleveland High School.
I have an endless amount of gratitude to Mr. Sorensen, my fellow editors, and amazing staff members for making the past two years on The Clarion a truly unforgettable experience.
Next year I will be attending Scripps College and hope to write for the school newspaper, Scripps Voice. Although I will be travelling to a new state hundreds of miles away, room 370 will always be my home.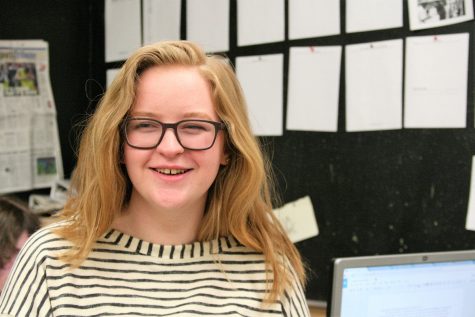 Evanne O'Sullivan
I joined the newspaper as a junior, hoping to follow in my sister's footsteps working on The Clarion, but I ended up paving my own path in the past two years.
In my first year as a reporter, I worked in the entertainment beat writing stories about Cleveland's choirs and bands, alongside writing the "World News" column with Kira Rea. My first year, I spent a lot of time working on layouts and working towards potentially becoming the next layout editor. Through my hard work, I was deemed one of two Layout Editors and one of four Editors-in-Chief.
As a senior, I worked on all the layouts, making sure that each was polished and completed by the time deadline came around. It was a crazy start to the year as we completely redesigned the newspaper from scratch. It definitely took some time to really figure out our rhythm, but eventually we got there. Looking back at this last year, my favorite issue was probably issue four. Everything came together, as well as a Clarion story making national news. When I was passed down the torch from Emma Jones last year, I honestly didn't think we would ever be able to surpass their success, because the year we had with her, Cleo Bethel, and Tucker Johnson was amazing… but when we hit issue four, I knew we'd done it.
This past year has been the most stressful and rewarding year at Cleveland and on The Clarion. There were late nights, long days and a lot of time spent in room 370. Through blood sweat, and tears, I can honestly say that this has been an amazing year and we had an absolutely amazing team.
From my time at The Clarion, I've found my career path, and in the fall I will be studying design and marketing at the University of San Francisco.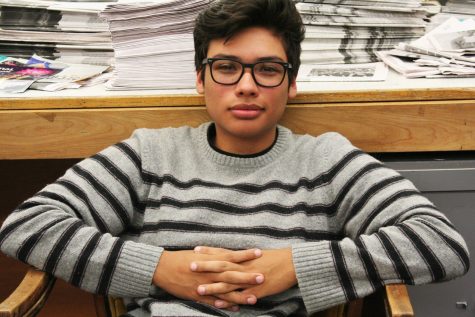 Cyrus Lyday
I began my journey into journalism on The Clarion my junior year. Sports journalism was my passion as I began my time at the paper, and I covered sports for the entirety of my junior year. I was given the title Community Sports Editor during the third issue and led the sports beat along with Conor Bergin. I wrote two columns per issue and a sport per season. I learned the ins and outs of The Clarion during my junior year. I learned how to make pleasing layouts, how to write captivating stories, and how to feed the beast. I ended my junior year feeling content, but not satisfied. I felt that there was more I could do to improve the paper.
I applied for and achieved an Editor-in-Chief position my senior year. I was assigned the best partner an editor could have, Evanne O'Sullivan, and we managed layouts throughout the year. She complemented me perfectly; where I lacked creativity on layouts, she crafted masterpieces. I never felt overwhelmed, even during the latest of nights, when Evanne was around. The newspaper evolved aesthetically under our jurisdiction.
Layouts were my primary job my senior year, but I still found time to write stories. One story about Cleveland's lack of Winter Formal, co-written by yours truly and Editor-in-Chief Emily Diamond, made it to the Today Show and even to an international news site.
I drew inspiration from many journalists. As a sophomore in journalism class, I looked up to the Community Sports Editor at the time, Trent Lowder. Mike Barrett and Mike Rice, the commentators for the Portland Trail Blazers local broadcasts, were a large inspiration for me. Having the best advisor known to man, Andy "Ace" Sorensen, was priceless throughout my years on The Clarion. These, and many other journalists and friends directed me as I forged my path to success. Next year I will be attending the University of Oregon's School of Journalism and Communications where I plan on gathering knowledge and pursuing journalism. My time on The Clarion was unforgettable, and I will cherish these times forever.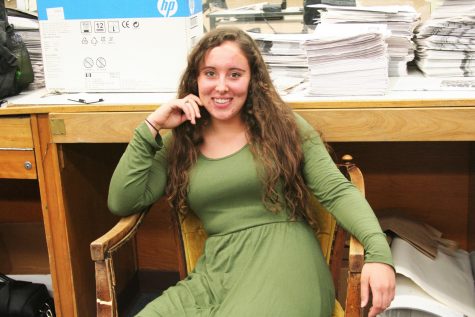 Margaret Gibson
I began working with the Cleveland Clarion my freshman year, writing last minute news briefs and tracking down various students for quotes. As a mere journalism student, I was honored and excited to be featured in the newspaper. I became a full member my sophomore year as the youngest student on staff. I started writing strict news, but found my niche in commentary writing as the year went on and was given my own column, Social Scene. I (sort of) bribed my way into Ace's good graces by painting his podium and other forms of interior decorating, and only once accidentally ripped a tile out of the wall. I finished sophomore year by signing the coveted wall of fame in the classroom… for a staff member whose handwriting was too disgraceful to appear on the wall.
My junior year went by fast because many of my friends joined the staff. I became involved in the inner workings of the paper and was given the job of Managing Editor for my senior year. I was faced with the task of getting a class of 35 people to want to sell enough advertisements to support our expensive paper. It was challenging, but a good lesson in leadership, business skills, and money management.
I am thankful for the experiences I gained through The Clarion, like improving my writing skills, organizing fundraisers, and becoming less of a control freak by delegating responsibility to fellow staff members. I have had lots of great memories in my four years here, gossiping in the back with friends, lip-syncing to Shakira, and spending late nights eating pizza and stressing over the perfect way to lay out a page for the paper. Next year I will be attending the University of Oregon's Clark Honors College to study Human Physiology, but I plan to continue writing and studying journalism in college and beyond.
Quinn Gonzales
I joined The Clarion last fall.  I was thrilled to be a part of the staff that produced the papers I read cover to cover.
On the third day of class, I decided to take on the Love Column, which had previously given heartfelt and helpful advice. I wanted to take my responses in another direction. As the Love Column expert, I suggested  ludicrous ways to ask someone out, random methods of keeping a relationship going, and unusual techniques of expressing one's feelings.
My favorite moment on The Clarion was at the seventh Ace Awards. Jared Watson and I dethroned seven-time reigning champ Conor Bergin as the winner of the "Best Column" award, winning for our Love Column about what to do when you fall in love with Ben Higgins, The Bachelor.
Working on 100 Warriors with the wonderfully talented Emily Diamond has also been a highlight. The idea behind 100 Warriors is to introduce ordinary members of our Cleveland community who have a story to share. I love this project, because each time I meet one of our 100 Warriors, I get to know another member of the Cleveland community.
Those outside The Clarion may not know that I was in charge of the "interior design" of our newspaper room. Prior to this year, the room was littered with 90's grammar posters and notecards from events long over. This year, I wanted to show off some of the amazing work our reporters produce, so I grabbed my art supplies, and soon enough, our walls were covered in pictures of staff members, photos taken by our photographers, and clippings from each issue. My favorite newspaper tradition is stapling the front page of each issue to the wall the day it hit the stands. It's symbolic of our progress during the year.
Next fall, I will attend Santa Clara University and I hope to join their weekly, The Santa Clara. Though my time with The Clarion was short, I am grateful for time spent with such a passionate community and will always look back on my time here as a highlight of my high school career.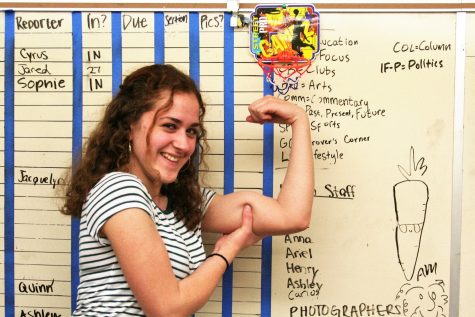 Grace Benefiel
I took journalism sophomore year, but didn't join newspaper until my senior year. I joined The Clarion because I really like working on layouts and wanted to have them actually put to use. Working on The Clarion has been one of the most fun experiences of my senior year. One of my favorite memories is when we discovered the speakers with an aux cord and we listened to "Yeah!" by Usher, my favorite song. Another favorite memory would be watching the intensity of certain people's eyes as they concentrate on the online game, slither. Being able to participate in The Clarion meant being able to spend time with some of my closest friends. One of my best friends and writing partner, David Rappe, helped me adapt into the world of the Cleveland newspaper. My biggest accomplishment was either co-writing the Galentine's Day story, or the early 2000s mixtape.
One of my favorite things about newspaper is when we do group meetings each day. I especially like it because everyone gives lots of unique and interesting story ideas. The amount of creativity is truly astonishing, and it amazes me how many new ideas are brought up each class period. Kira is an excellent group leader, and I've enjoyed working with her.
I've loved my time in newspaper, and it is definitely my favorite class. There is no doubt about this, and I've found that it is especially enlightening when we have work time for the whole period. It is really helpful and constructive. I've made a lot of new friends and there has never been a time in newspaper class that I have had a bad time. It is always an enjoyable and constructive experience for me, and I'm sure everyone else feels the same way. This may sound  a little cheesy, but it is 100 percent true. Late night waffles will always be a fond memory for me to look back on. I am sad to be leaving The Clarion but I am excited to see where the staff of next year takes it. Next fall I will be studying at University of Oregon.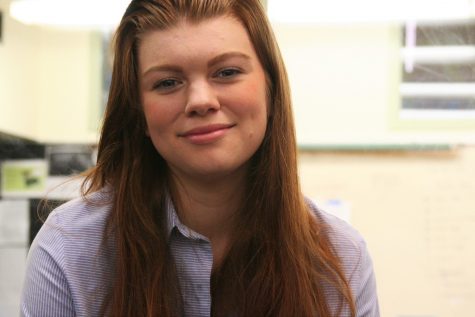 Kira Rea
My position within The Clarion has been as a reporter for the politics and drama beats and as a team leader. Last year I co-wrote a column with Evanne O'Sullivan called "World News." This year, I have written a number of diverse stories due to not having had a column to fall back on, and in turn, I have learned to push myself. I have also been a part of the page layout process since the beginning of my placement in The Clarion.
Reporting for The Clarion has been one of the most extraordinary experiences I've gained while attending Cleveland. I've always felt valued and encouraged to express myself amongst my peers. Newspaper has been an amazing experience for me because I feel comfortable every day and I know it's a place I can always go to have a good time. The people I have been surrounded by these past two years have been incredible, and I've gained new friendships with many and learned through others how exciting it can be to step out of my comfort zone.
My peers in The Clarion have been essential in motivating me to try new writing styles and tackling stories I hadn't considered I was ever capable of writing. I have learned how to be proud of my own work and gained amazing new insights to the community around me by challenging myself to meet and interview different faculty and students I wouldn't have met otherwise. I think I have laughed every day that I have been in newspaper, and that is something I will cherish forever.
My favorite memory is from last year when the Legend staff visited us to photograph our reporting efforts in the newspaper room. There's a photo of a group of us in the yearbook, staring intently at a computer screen, and it's captioned something along the lines of "dedicated and working hard to finish a story."
We were playing Pizza Party Pick Up from The Suite Life of Zack & Cody.
Next fall I will be studying International Relations at Coventry University in the United Kingdom.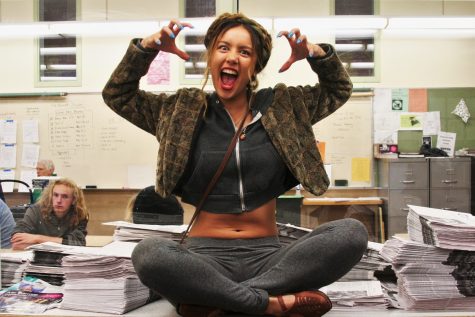 Siana Ramos
I joined the crundy Clarion crew junior year after taking journalism sophomore year. Making the journey from journalism to the end of my second year of Newspaper has been so wild. Being a part of Newspaper has changed my LIFE. It's given me the opportunity to express myself and become even more connected with Cleveland.
I write a lot of commentaries and I love writing them. One of my favorite stories was the one I did about Camille Adana launching her book, Motivate From Within. I felt so honored to be the one to cover that story. I feel so blessed to be able to write about things I care so much about. I wrote an article about self-love a few months ago and the amazing Tori Tefft stopped me in the hall and told me she kept a piece of it in her journal, and that was so incredible to hear. The fact that what I write can influence people and inspire them… That is such an unbelievably cool feeling.
Newspaper has been such a huge part of the creation, development, and validation of CRUND.  In journalism sophomore year, we named our mini newspaper, "Ze Cleveland Crund," and that was a huge milestone. My heart glows, my enzymes tingle, and I start salivating when I hear a newspaper family member refer to me as "The Crund Queen" or even say the word.
I love walking into newspaper, sitting down, looking at all of my beautiful glowing peers, and listening to Ace spew crund at us. I love the days when I come in and everyone's already in the back on computers, working their magic. And Best Ofs, oh my god… I will never forget how fun Best Ofs are, when Ace awards us all for our amazing work and I get to scream and cheer for everyone.
I am amazed by my Clarion family constantly, they are endless sources of creativity and talent. I am so proud of what we do. I am going to miss it so much. Newspaper has always felt like such a fun, safe space. Next year I'll be taking my queen self to PCC and exploring and expanding my crund there. Soon after that you'll probably see me at the Oscars!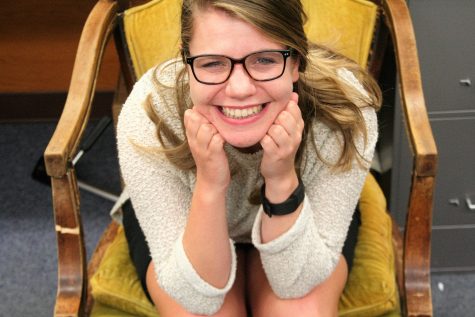 Bella Forrest
I joined The Clarion last year after realizing the importance of the written word and the impact it can have on our society. When I signed up for journalism, I originally planned to go on to yearbook. However, after seeing ACE's amazing work ethic and love for his job, I soon fell in love with spreading news to our student body. It also helped that I had heard nothing but good things from my sister who was a part of The Clarion for two years as well.
As a junior, I found my way into the sports beat, reporting for cross country, wrestling, and boys tennis last year. I really enjoyed the aspect of writing for sports that I competed in and pestering all the teachers in the building, asking for interviews and quotes.
Throughout this year, I have truly found my rhythm and being able to write stories I'm proud of and writing sports that I was passionate about. Receiving "Best Sports Story" five times in a row after being behind the scenes a lot of last year meant a lot to me. To be recognized worldwide for one of  The Clarion's stories was seriously mind boggling and one of the most rewarding things I've ever witnessed.  
The hardest story I've ever written was probably the In Focus proficiency story I wrote with Ally Grimaldi this year. This was the point at which I realized that I didn't have to limit myself to just sports, and co-writing with her was the perfect fit. There were so many interviews that we had to conduct and research that we had to do in order to cover the full story and connect it back to the school, but to get "Most Informative" was truly rewarding.
I think that the thing I wish I would've taken more of a part in is taking pictures. I truly love capturing people doing what they're passionate about. My favorite memory is hearing Ace say "EVERYBODY'S A WINNER!" during "Best Ofs" each issue. We all have worked so hard to make this paper the best in the west, and being on The Clarion has truly taught me the importance of teamwork, and that recognizing just a few people doesn't do the paper justice. Because of this class, I have decided to pursue journalism at the University of Oregon and see where writing takes me. I realize how much the career of journalism is changing, but to be a part of that generation watching truly inspires me.
Nelea Chin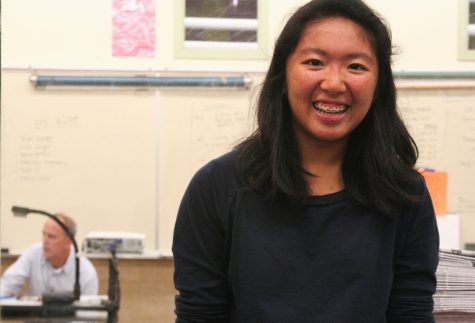 In my freshman year, I was such a shy kid, I was scared to join any electives for fear of having to meet new people. At the end of that first year, after reading every issue, it was through a nagging from my conscience that I decided that I wanted to make it to The Clarion. (For later, this decision wasn't completely meant to be.)
It started with a journalism prerequisite. I believe some of my best writing and reporting came forth from journalism; the weekly writings under Mr. Sorensen's discretion continued to pique my love of the literary craft, molding ideas into words, and eventually producing a mock publication, that I was called into the position of "copy editor."
The following year, I was struck with a fork in the road: newspaper and symphonic band are both in the same period. Torn that I couldn't choose both, Sorensen, Ms. Van Kopp, and I figured out a way to have me to participate in newspaper as an independent study, and it has been one of the best choices in my life since. The hard thing was, was that I was only able to be part of The Clarion clan in spirit, to which the pseudonym 'M.I.A.' was immediately the running joke of the year as Ace affirmed the crew that, "Guys, seriously, Nelea's a real person!" until, eventually, [Conor Bergin] cited, "I finally saw her: The Legend," at a Clarion late night. I'm going to miss the days of burning the midnight oil, the times we tried to fundraise for color printing and higher-quality pizza, and the one day each month when we were all so relieved when the paper finally came out. Thank you, Ace, for always listening and supporting all the insane ideas I threw at you, and thank you, people of the Clarion, for allowing me to be a part of your family these past two to three years. For it is through you I found my voice, my path to the public podium, and the beginnings of my career as a reporter and copy editor.
Leave a Comment