Culture Shock: Taking Steps Towards Change
Finally it is being acknowledged. Students and staff of Cleveland are addressing our issues within dance culture in a way that they have never addressed them before. Leadership students have begun to collaborate with our school administration because they understand the terrors that have haunted our school dances pasts. Everyone is on board in search of reforming our dance culture.
Cleveland is changing its ways. We are not going to be a school that sits back and watches its students get torn down, harmed and degraded by their classmates. The school is taking a stand.
The first move towards a renewed dance is time. Postponing the dance gives time to think, to discuss, and time to hear what the Cleveland population has to say, and most important, it gives time to create an environment where students can thrive.
Senior Melissa Patterson is helping to lead the leadership committee towards change for the better. She said, "Safety is Cleveland's number one priority and that has escaped us in the past. We are trying to bring that back as the number one thing at a dance."
That said, it has got to be fun. As Activities Director Eric Mirsepassi said, "I want it to be safe, I want it to be fun and poppin', I want it to be an environment where people can express themselves responsibly."
A proposal from the leadership class has been approved by Principal Tammy O'Neill and our administration concerning their desired changes. Together, they are starting reformation from the roots. "The only way we can completely change the culture of the dance is to put a completely different take on it," said senior Simon Brown.
All students are encouraged to contribute their experiences, input, and suggestions through a drop box stationed in the SSC and main office.
First, the leadership class plans an education for the entire Cleveland student body. This will likely be processed through a video including personal student experiences both positive and negative, information about consent (what consent is and how to receive it), different dance cultures in the Portland Public School's community, and newly-enforced standards that will be held at all forthcoming dances. It will be shown schoolwide. By hearing students' experiences with sexual assault on the dance floor, it will be an undeniable fact that yes, sexual assault is real and is prevalent on our very own school grounds and in our community. Congruently, leadership will inform the student body on what constitutes sexual assault. This will serve as a function in shutting it down.
Secondly, leadership is doing intensive research. Through the collection of psychological studies, leadership has compiled proven evidence in support of changing dance behavior. Some of the leadership questions: What can be physically changed to amend harmful actions? Can the threat or reality of breathalyzers, diminish drug culture? "Will lighting change it, a semi formal, how would a different venue alter things, or security?" asked junior leadership student Rosie Allison-Brown. "We're really exploring a lot of different possibilities and trying to narrow it down to the most effective way of reforming the dance."
Chaperones also will play an important role in the renewal of homecoming. A meeting will be held with all volunteer chaperones to discuss what is being looked for at the function, preference in a chaperone and the vision for the dance. Sexual assault is not something you can supervise out, yet supervision is a way to instill boundaries and expectations within the environment.
Action. The dance. This will be the appearance of what is truly important at any school gathering. All students will feel safe, comfortable and respected. "We need a lot of fresh faces in there, more enthusiasm and more aware people at our dances," exclaimed Brown. Dances are a time to create community. What has numbed Cleveland in the past will not be a part of our dance future. Our staff and students won't cease work on this case until the way peers of Cleveland treat one another on and off the dance floor is refashioned. Student to student accountability is huge. This means if you see something, you must take action on it. We need to be a team.
 You are as much a part of solving this issue as anyone else in this school and in the world we live in. "Something we can do is be aware," said Brown. "Talk to other people about what is going on because the more people that are aware, means the more people that will want to stop the situation." As human beings, we hold the responsibility of treating others with respect. There is no excuse for "off-the-record" disrespect, and as the Cleveland student body, we must remember this when confronting all issues dance and all issues within our lives. "Try and understand our point of view," explained Allison-Brown. "I know it's a hard and [a] new thing, change is scary… . Try to understand where we are coming from and that we're trying to understand the student body and trying to make [our situation] better, make it safer. If people want to get involved they should totally come up and share."
This is the first step into a world in need of guidance. "In my mind," explained Mirsepassi, "this is secondary to the fact that it has been uncovered that there is something deeply wrong that is going on here at our school and in our town, and I really want that to be the focus."
It is inspiring and extraordinarily important that our student body is taking a stand. O'Neill remarked, "I am so amazingly proud of them… . This group of students, parents, [and] staff see an issue and are doing something to right the wrong we're seeing… . They are making change."
Be part of the change, be aware, be respectful, and be safe.
About the Contributor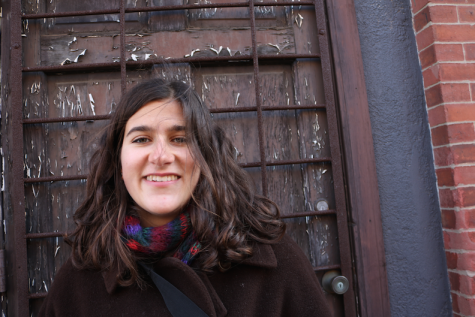 Anna Rollins, Editor-in-Chief
Position within Newspaper: Editor in Chief, Layout Editor, Spotlight Editor, Photo Editor

Graduation year: 2017

Favorite thing to do: have fun:)

Favorite...