Mixtape: Spring Break
Spring break is right around the corner, and if you are lacking new spring jams, don't worry. I've got you covered! There's everything from chill and relaxing tracks to end-of-the-'80s movie sounds.
"The Wild Life" by Vacationer
Vacationer never fails to impress, and "The Wild Life" is no exception. This song's bouncy melody and catchy chorus has turned it into a favorite of mine. Vacationer has a fairly unique sound. They tend to channel Vampire Weekend but also have tons of subtle funk and reggae influences. All of their songs hold a novel spring/summer sound that still surprises me every time.
"Tucan" by Kids of 88
"Tucan" is different from all the other songs on this playlist for a few reasons. For starters, it is entirely electronic with a few simple vocals. It is also the one I have listened to the most. I found this song a few years ago, and the fact that I still love it should speak to its quality. Quite simply, this song is absurdly catchy and addicting. It is upbeat, but somehow unparalleled by other songs like it. In short, if you are looking for a new song to listen to over and over during break, I highly recommend "Tucan."
"Go For It" by Cruisr
Cruisr released this sanguine tune only a few weeks ago, just in time for spring. Generally, Cruisr's songs are happy and upbeat, and "Go For It" follows the pattern. It keeps the spring feeling alive with a surprising beat, and catchy but crafty vocals. Cruisr's new album is in the making, and if there are more instant hits like this on it, I will be the first one to buy it.
"Greek Tragedy" by The Wombats
This song immediately grabbed my attention. The drum line is ridiculously good, the lyrics are smile-inducing, and the melody is captivating. This song could really be listened to year round, but it feels the most fulfilling in spring. This is true driving-with-your-hand-out-the-window music. Maybe even with your hand moving like a dolphin — who knows what this song is capable of.
"Glory Days" by Betty Who
I love Betty Who. That is a known fact. However, if I did not include this song, I think I would regret it forever. "Glory Days" is literally about the perfect spring break. Betty's 80s synths and enthusiastic beats will always enthrall me. I'm sure there are plenty of songs about spring break out there, but I sincerely doubt any of them capture the true essence of that perfect spring break we all dream about. Betty: 1. Everyone else: 0.
"Just Don't Let Go Just Don't" by Hellogoodbye
Listening to this song and standing still do not go together. If you are trying to look sane in public, this is not the song to listen to. Just a warning. I'm a sucker for obvious '80s influences, and this song has them all. Synths, pushy bass line, catchy vocals, the whole nine yards. Hellogoodbye is somewhat of a genius band. They have been together and making albums since 2004, and yet they have still managed to stay relevant while keeping true to a genuine and real sound. Very few bands can achieve that, and then put out a dynamite song like "Just Don't."
"Feels Like Summer" by Panama Wedding
This song makes it actually feel like summer. It could be snowing outside, but listen to this and I swear you could still be convinced it was 80 degrees and sunny. This song embodies the feelings of summer like no other. Panama Wedding knows how to create the illusion of summer and all the feelings that come with it. Spring break is more summery than the first week of actual summer here in good ol' PDX, so get this song in while you can!
Leave a Comment
About the Contributor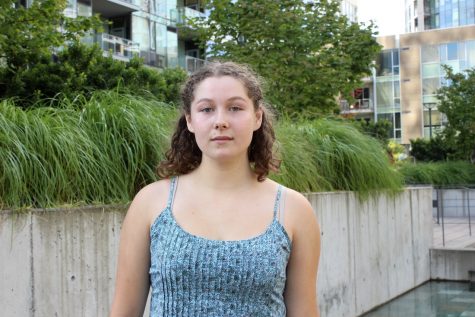 Eva Bryner, Arts Editor
Position within Newspaper: Arts Section Editor

Graduation year: 2017

Favorite thing to do: I love creating, and enjoy many outlets including...