Waving Goodbye To the Boys Soccer Season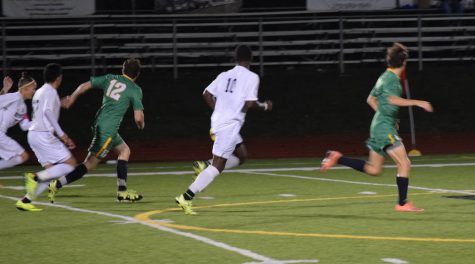 With fall sports regular season wrapping up on Oct. 20, the boys' soccer team worked to finish strong in the 2016 season.
When the season wrapped up, the team found itself out of the playoffs, falling to 1-5-1 in league and 2-7-5 overall. Their state rank was 38, just out of reach to qualify for a state play-in game.
Last year the team was ranked number 22 and had an automatic qualifying bid to the playoffs.
"We play really well and are strong technically. There is a resilience within the team that is to be admired," said the new head coach Alex Annand. "However, we suffer from from not being able to finish. There have been chances all year to win games, but we have consistently failed to take advantage of the opportunities we have provided ourselves. Only when we find a way to finish will we meet our potential."
This has been proved to be a true statement, where in the beginning of the season they came into league play with a three-game losing streak. However, they have stepped it up and worked hard to try and make the playoffs, especially in their last game against Grant.
When playing Grant, Cleveland had 51 percent possession of the ball, had 15 shot attempts to Grant's 12, and only fouled seven times while Grant left with 18 fouls against them. Their efforts led to a 2-2 tie against the Generals, the 11th-ranked team in the state.
"We're giving people a lot more chance than they deserve, a lot more second chances," said senior Peter Gregory, captain.
Towards the end of the season, the team looked to shake things up by changing the lineup, as well as keeping their spirits up and staying aggressive.
The Warriors finished the season losing to Roosevelt 2-1, and Wilson 2-0. Wilson is the fourth-ranked team in the state.
Now, all that's left for the boys soccer team is to reflect on this season, and look forward to the next.