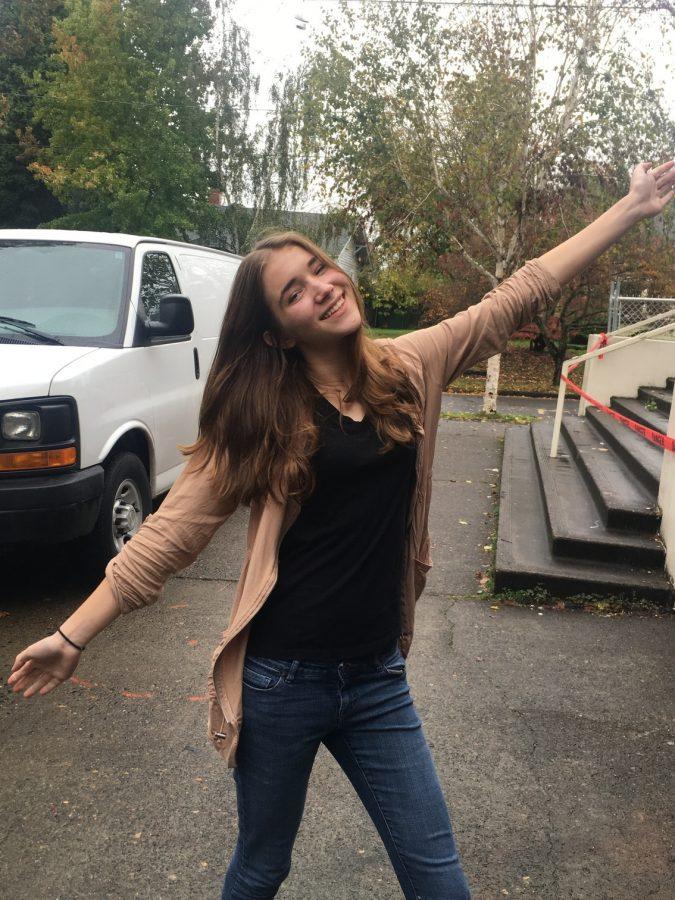 Position within Newspaper:
Reporter, photographer
Graduation year:
2018
Favorite thing to do:
Watching movies, going on adventures with my friends, and baking
Favorite book:
I would have to say
Paper Towns
by John Green. I use it as a guideline when I want to do something adventurous.
Favorite movie:
I would have to say
Clueless
or
She's The Man.
I can't really choose a favorite, but I'm able to see those over and over and still be very entertained.
Favorite food:
Mexican food! My diet could be burritos for a straight week and I would be very content.
Favorite quote:
"The roof is not my son, but I will raise it." -Xavier Woods
Allie Montgomery, Reporter
Jan 11, 2018

Sexual Assault: It's Not a New Issue, It's an Ignored One

(Story)

Nov 07, 2017

Ella Ristvedt Sets Team Up For Success

(Story/Media)

Nov 07, 2017

Cleveland Homecoming: Pretty In Pink

(Story)

May 23, 2017

Eli Morse Continues Baseball at University of Portland

(Story)

Apr 26, 2017

The Heat Rises at Burgerville "Boycott"

(Media)

Apr 13, 2017

Biftu Amin is Selected as Cleveland's 2017 Rose Princess

(Story)

Feb 07, 2017

January Faces on the Field

(Story)

Dec 10, 2016

Cheer Returns to Competitions

(Story)

Dec 06, 2016

Dance Teams Sports a New Theme for State

(Story)

Nov 13, 2016

Cleveland Student Kylie Ristvedt Gets Player of the Year for Volleyball

(Story)

Oct 23, 2016

Waving Goodbye To the Boys Soccer Season

(Story)

Oct 11, 2016

Tastebuds: Toadstool Cupcakes

(Story)

Oct 04, 2016

September Faces on the Field

(Story)

Sep 27, 2016

Glencoe Defeats Cleveland Football 42-7

(Story)

Sep 26, 2016

Volleyball Sports New Coaches for the 2016 Season

(Story)

Mar 04, 2016

New club offers support for life's tough times

(Story)

Feb 17, 2016

Two CHS Seniors Begin Their Campaign for Rose Princess

(Story)

Feb 14, 2016

Kaley Hambelton Jumps into Her New Track Coach Position

(Story)

Nov 10, 2015

Sophomore Hall Decs

(Story/Media)

Nov 10, 2015

Freshman Hall Decs

(Media)

Oct 02, 2015

Teachers without a 'homebase'

(Media)

Oct 02, 2015

New Year, New Coaches

(Story)