Cleveland Student Kylie Ristvedt Gets Player of the Year for Volleyball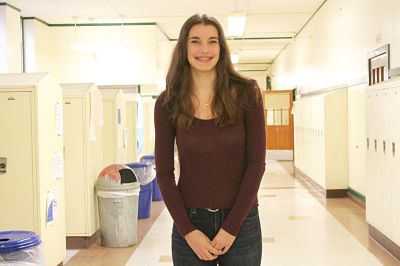 As the fall 2016 season comes to a close, Cleveland junior Kylie Ristvedt has been named Player of the Year for volleyball.
Each year, one player is chosen out of each district in 6A after the season is completed. The coaches get together to choose who was the first and second all conference teams, honorable mention and of course, player of the year. Last year, the honor went to a Benson volleyball player, and this year, it came as a complete shock to Ristvedt that she was the chosen player.
"Honestly, I felt pretty surprised. I didn't think that most of the PIL coaches thought that highly of me. Once I found out, I was ecstatic and proud at my accomplishments and how far I've [come]," said Ristvedt.
Ristvedt has been playing as an outside hitter since seventh grade and was on varsity for all three years of high school with her twin sister, Ella. This season, her hits and blocks were a main contributor of Cleveland's record this year of 12-4 and the reason she became Player of the Year. With all of her success, she has a lot of people to thank for getting where she is today.
"My first club coach I had in both seventh and eighth grade had helped me get into the sport and made me want to pursue what I enjoyed to do. He taught me most of the basics. Along with the rest of my coaches. I believe that every coach I have had has helped me greatly in multiple ways," said Ristvedt. "Other than my coaches, my family has been a HUGE part in my success. They have pushed me whenever I feel like giving up and supported me in every way. Especially my twin sister, Ella. She has stuck by my side through all of this and kept me going," says Ristvedt.
Her twin sister, Ella, also had something to say about her sister's achievement, "I knew she worked for it, and I really just thought she deserved and earned it."
Not only has she gotten Player of the Year this season, but Kylie has also accepted a college scholarship at University of Portland. She was contacted during her club season last year and was interested in three colleges: Seattle University, University of Portland, and University of Montana. After looking into it further, she made an informed decision to pursue the University of Portland.
"I have given them a verbal commit, and now I plan on attending University of Portland for college after high school. I will be able to get a great education and play the sport that I love for no cost."