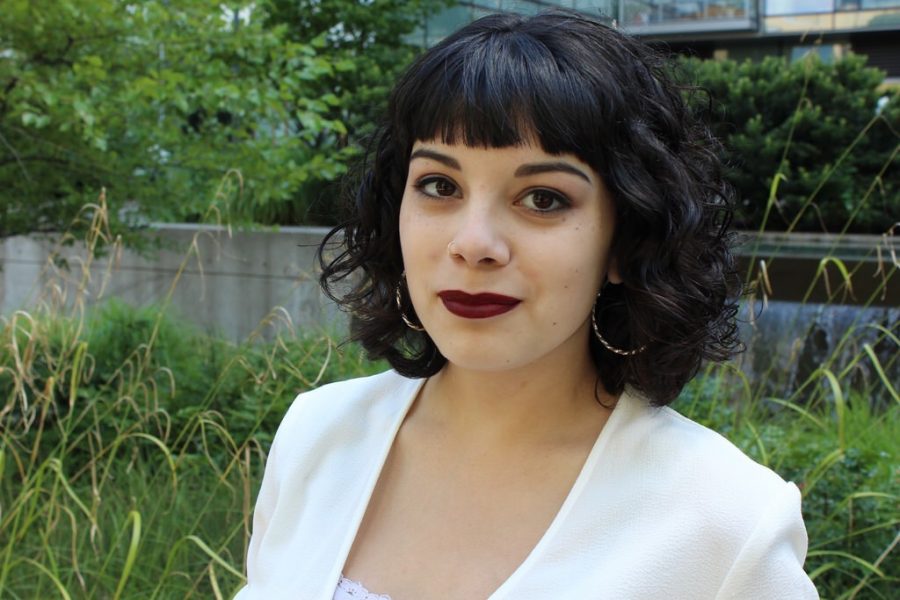 Position within Newspaper:
Commentary Editor, Assistant Story Editor
Graduation year:
2017
Favorite thing to do:
I enjoy embroidering, collaging, and various other crafty activities.
Favorite book:
I re-read the entire
Harry Potter
series over the summer and it still holds a dear place in my heart.
Favorite movie:
Solid tie between
Dazed and Confused
and
10 Things I Hate About You
.
Favorite food:
My mama's homemade yellow curry with tofu.
Favorite quote:
"It's not hippie witch, it's Twin Peaks, and it's very in." -Brenda Walsh,
Beverly Hills 90210
Sunflower Rangel, Commentary Editor
May 30, 2017

Modern Feminism: Welcome to the dangerous world of 'stealthing'

(Story)

May 30, 2017

Modern Feminism: Fueled by prejudice

(Story)

Mar 19, 2017

Modern Feminism: When abuse is rewarded

(Story)

Mar 06, 2017

Modern Feminism: Double feature

(Story)

Dec 02, 2016

Modern Feminism: Stick it to the man (Mike Pence)!

(Story)

Nov 09, 2016

Mixtape: A trip through genres with the ladies

(Story)

Nov 05, 2016

Luke's Diner comes to Portland

(Story)

Nov 02, 2016

Modern Feminism: an awful criminal sentence and some stitching

(Story)

Sep 27, 2016

Modern Feminism: a car for women and Moana mistakes

(Story)

Apr 18, 2016

Modern Feminism: Kehlani and double standards

(Story)

Mar 16, 2016

Modern Feminism: Kesha

(Story)

Mar 14, 2016

Types of Feminism

(Story)

Feb 18, 2016

Modern Feminism: The Oscars' diversity issue and an all-female Senate

(Story)

Jan 22, 2016

Modern Feminism: Birth control laws and the 2015 feminist awards

(Story)

Dec 18, 2015

Teen council spreads awareness on HIV and AIDS

(Story)

Dec 18, 2015

Modern Feminism: The Military and Planned Parenthood Attack

(Story)

Nov 19, 2015

Mixtape: Heartbreaking songs for the love obsessed

(Story)

Nov 19, 2015

Modern Feminism: Tarantino and band dress code

(Story)

Oct 15, 2015

Modern Feminism: "Stonewall" follow-up and the prom dress problem

(Story)

Oct 06, 2015

The SlutWalk marches over its critics

(Story)

Oct 02, 2015

Modern Feminism: Viola Davis and the "Stonewall" movie

(Story)

May 30, 2015

We need more female superheroes

(Story)

Apr 22, 2015

Marina and the Diamonds sparkle in "FROOT"

(Story)

Mar 09, 2015

Bill in Oregon Legislature would ban conversion therapy

(Story)

Mar 03, 2015

The dark truth about Super Bowl Sunday

(Story)