CTE programs at Cleveland explained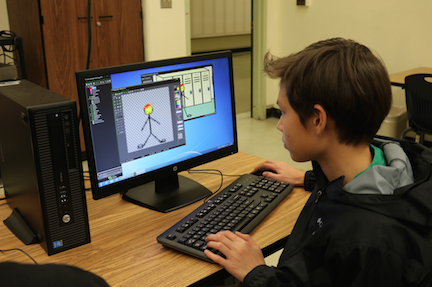 The gap between credit for high school and college courses is rapidly closing with the advancement of Career and Technical Education (CTE) programs of study at Cleveland.
"The idea is that students get a chance to gain specific, relevant, professional skills … with experiences and possibly credit while in high school, [and] transfer those skills to further education or to a job," CTE digital media programs teacher Vanessa Hughes explained. "While every student should be trained, ready for college and prepared for success in four year universities, not everybody wants to or needs to. Not every profession needs you to get $80,000 of student loan debt."
The current Career and Technical Education courses at Cleveland include culinary/hospitality class, computer science, digital media production and woods and manufacturing. The courses are taught by professionals who have elected to come give high school students an education in a specific area of study and a true understanding of the material in that field.
Some CTE programs of study are dual credit, meaning that students taking them earn high school and college credit. If they are not dual credit, as all the CTE programs at Cleveland happen to be, they are in alignment with programs of study beyond high school.
In comparison to the other high schools of Portland Public, Cleveland is lacking in its abundance and maturity of the CTE programs. As activity in the courses increase, so will the amount of courses available. Hughes explained, "Most of these programs are in their incubation stage. The more students that take the classes, the more numbers we have represent a future for the program. Based on the number of students that graduate from these programs, and the kinds of students that graduate from these programs…[we are] eligible for money. With the money we get, we can buy equipment, supplies, etc."
Elizabeth Harvey, who currently teaches culinary arts, said, "I am teaching this based on my background in the culinary world." She is an industry professional. Prior to teaching, she attended culinary school, worked in several restaurants, and taught at Sur La Table in the Pearl as a culinary instructor.
"It is not an eating class," Harvey explained. "Your interest to take these [culinary] classes is to learn more about the industry and to be self-sustaining outside of high school, be able to take care of yourself and feed yourself. You will be exposed to lots of careers in the culinary and hospitality industry that you may not know exist."
Next year, with the addition of a baking and pastry class, the culinary arts program will become a full CTE program of study, meaning it will be a three-class program fully preparing students interested in going into the culinary/hospitality field. Computer science and woods and manufacturing will have four course options next year.
Career and Technical Education programs of study are exploding all around the United States. They allows students who otherwise may not be able to succeed in their field of choice a place to get introductory skill sets they need for further study or possibly a job straight out of high school.