100 Warriors: Freshman Corri Jackson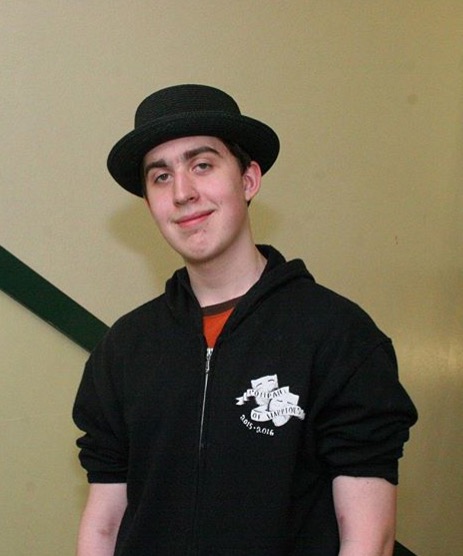 Freshman Corri Jackson's passion for Parkour started a couple years ago, after being interested by the complex moves he had seen. "I was just looking around thinking that I want to do something new. I knew about Parkour and was curious if there was anywhere in Portland where I could do that," said Jackson.
Jackson found that there are a couple gyms throughout Oregon where you can take classes in which they teach you different techniques. Jackson prefers to go to open gyms and practice by himself. Parkour is a form of exercise geared towards preventing dangerous situations; the art of Parkour is getting from one location to the next in the fastest and most efficient way possible. Because of this, Jackson suggests taking a variety of classes involving different moves. "Every single muscle in a class you basically use." Jackson added, "You want to exercise everything equally so if you're in a dangerous situation when you're being chased you can do each move."
Jackson interns at Revolution Parkour in Beaverton, gaining new skills everyday, and teaching others what he has learned. "I just finished up doing fencing so that was a logical next step," Jackson explained. For Jackson, it has improved his physical state, and is great for mental and physical power. But the aspect Jackson enjoys the most is the people he is surrounded by. "It is just fun because the community is very nice," Jackson said.
At his Parkour studio, Jackson is an assistant teacher. For Jackson, the hardest part of the job is the fact that everyone has slightly different issues with learning the different movements. "I have to figure out what they're doing wrong and remedy it," Jackson explained. "Sometimes I can't just show them everything, they have to learn it by themselves. It's just really fun and generally very enjoyable."
Jackson favorite trick is the tac, because it has the most use. To complete the tac, you kick the wall to convert your forward momentum to upward momentum. The faster you run, the higher you go. "At this point, I could probably get up an 11 foot wall," Jackson said. At Jackson's gym, there is a wall called the Eiffel tower that is 13 feet tall. "There are only about two people in my gym who can get up there," Jackson said.
Though Jackson has never broken a bone, he has seen many injuries during his experience with Parkour. When he first started out doing Parkour, he showed his best friend. They were just starting to learn so they just went to a park, and started messing around. Then, Jackson's friend did a move that Jackson did not recommend. "I actually watched him break his hip," Jackson said. "That was kind of gnarly."